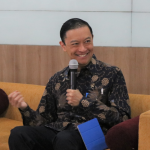 SBM ITB presented an inspiring talk-show on "Surviving the Age of Complexity" inviting prominent startup leaders in Jakarta (5/12/2018). Opened by Tom Lembong of BKPM on Indonesia's business outlook of 2019, he said "Our economy is still showing good performance from the low inflation rate, strong GDP, and incoming investment, but we cannot be complacent. We need to spur more innovation and create more entrepreneurs so that the economy can be developed further."
Moderated by students of MBA program, the event continued to discuss the strategy to survive in startup business. In deep, this session emphasized more on to how to get the fund since the business to grow. As panelist speakers, the event invited Edward Tirtanata of Kopi Kenangan recently won "Seed Funding" US$8 Juta from Alpha JWC investor, Samiaj P. Adisasmito of Jojonomic, and Andhika Mauludi of Akusara Production.
Another attractive subject discussed went to technology. Will the tech rule the world? Startup leaders such as Arsyah F. Rasyid of Kokatto, Vikra Ijas of Kitabisa.com, and Endra Marsudi of Frame a Trip shared their stories. The speakers agreed to not be reluctant of advanced technology since it would still be controlled by human. "So, for us as a human, it is important to have heartware (perangkat hati) to use technology for a great cause," said Arsyah.
The event then came to an end. "The Power of Branding" was on stage with marketing lecturer Dr Jacky Mussry, Almira Shinantya from DMIdeology marketing consulting firm, and Laila Munaf of Sana Studio who successfully built brand awareness of her SANA studio as the pioneer for Zumba dance in Indonesia. "You need to find your core DNA and how to leverage it as an asset. You can get inspired by others but do not copy them. That's the essence of personal branding," told Dr. Mussry.