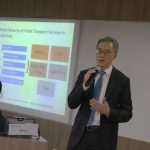 SBM ITB worked together with MRT Jakarta and Trans Jakarta held workshop on "Intermodal Transportation: Public Transport Integration in Jakarta" yesterday (5/12/2018). Opened by Founder Prof Kuntoro Mangkusubroto, the workshop invited the Acting Head of Jakarta Transportation Agency, Sigit Wijatmoko; the former President of MTR Academy Hongkong, Morris Cheung; the CEO of Rapid Bus Malaysia, Muhammad Yazurin Sallij; and the Head of Jakarta Smart City, Setiaji.
Moderated by Deputy Director Dr Yudo Anggoro, the workshop began with the best practice of Rail-Bus Integration in Hongkong and Malaysia, how Jakarta could learn from these two countries. The issue then went to how to compete with online transportation. "In Malaysia, we are still in discussion for agreement with transportation online provider such as Grab and Uber. And it can only be implemented in KL," said Muhammad Yazurin.
The workshop now moved to go deeper in discussing the challenge. Transportation experts Prof Danang Parikesit and Alvinsyah MSc gave their view. "Solving the transportation dilemma requires more than just infrastructure. It is rather ideological and political," told Alvinsyah on his presentation.
The session ended with the case of Jakarta Smart City (JSC) delivered by the Head of Smart City Management Unit, Setiaji. He focused on the big data analytic using data mobile subscribers. As he continued, the aim was to help JSC and MRTJ to understand the aggregate actual mobility size & pattern. Additionally, as setiaji underlined, it was useful to test the mobile big data viability for transportation planning purposes.