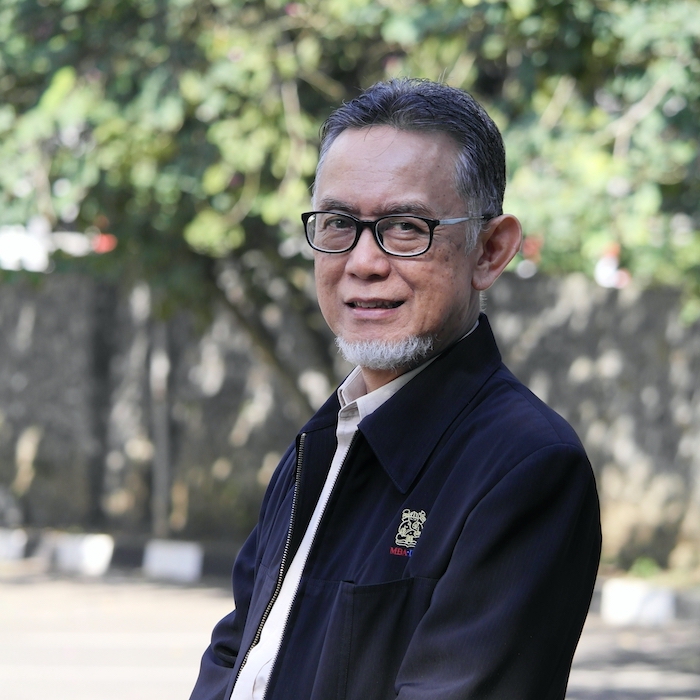 Research Areas
Knowledge Management
Digital Capability
Human Capital Management
Organizational Culture
Leadership
People in Organization
Learning Organization
Teaching Areas
Knowledge Management
Human Capital Management
People in Organization
Organization Development and Learning Organization
Profile
Prof. Jann is a Bachelor of Industrial Engineering (1997). He pursued his postgraduate studies by doing a Master of Industrial Engineering degree at the Catholic University of Leuven, Belgium (1981). Subsequently, he did his Doctoral degree in Knowledge Management (2001) from the Faculty of Industrial Technology-Institut Teknologi Bandung-Indonesia. Jann started and developed his academic career as a full-time lecturer in Faculty of Industrial Technology-Institut Teknologi Bandung. Among the courses he has taught are: Method and Time Study, Production Systems and Management of Technology.
During his academic career, he has published three books for the students and public: Teknik Tata Cara Kerja (1980), Manajemen Teknologi (1996) and Knowledge Management dalam Konteks Organisasi Pembelajar (2007). Jann was one of the founders of School of Business and Management (SBM)-ITB since 2003, and as held the post of Director of MBA program (2003-2005). In recognition of his performance, he as appointed by ITB to be a Vice Dean of Academic Affairs until 2009. In SBM-ITB, he contributes his specialist knowledge in the fields of Knowledge Management and Information Technology, People Management, Learning Organization and Organizational Behavior in Organizations.
In addition, besides acting as an academic, he has been proactive in the professional academic community, and has been appointed President of Knowledge Management Society Indonesia (KMSI) since 2007. He is well known as a Professor in Knowledge Management and Learning Organization in many Indonesian organizations. Currently,, Jann is a Head of People Management and Entrepreneurship, covering knowledge management, change management and human capital management experts.
Academic Degree
Full Professor in Knowledge Management and Learning Organization
Doctor in Knowledge Management, Industrial Engineering Department, Bandung Institute of Technology (ITB) (Indonesia)
Master of Engineering, Industrial Engineering Department, Bandung Institute of Technology (ITB) (Indonesia)
Master of Industrial Engineer, Catholic University of Leuven (Belgium)
Bachelor of Industrial Engineering Department, Bandung Institute of Technology (ITB) (Indonesia)