ITB successfully held the first hybrid (online-offline) meeting of collaborative lectures between four fields of study: Physics (FMIPA ITB), Entrepreneurship (SBM ITB), Agricultural Engineering (SITH ITB), and Actuarial Science (FMIPA ITB), Monday (18/4/2022). It can be said that a quarter of the faculty at ITB have joined to develop the nation with collaborative efforts and motivation.
The activity, entitled "Econophysics and Big Data Analytics in Global Socio-Economic Complexity," was inaugurated by Prof. Dr. Ir. Jaka Sembiring, M.Eng., Vice-Rector of ITB for Academic and Student Affairs. In his opening remarks, the Vice-Rector raised awareness of the 21st-century phenomenon. Human skills are gradually being replaced by technology and machines. The simple push of a button replaces physical and skilled occupations, such as farming or manufacturing. The development does not stop there; it continues until it replaces intelligence.
"If everything is replaceable, what is left for us as humans to educate? Machines may be intelligent, but the creative, empathetic, and leadership characteristics remain in humans. As a result, every ITB student must be educated and instilled with a sense of humanity. Thus, they can control machines instead of machines controlling them," said Prof. Dr. Ir. Jaka Sembiring, M.Eng.
With these requirements, ITB assists its students in developing competencies and future human aspects. The campus must prioritize technology, humanities, and interdisciplinarity. As a result, there is a need to create a collaborative learning space for faculties to complement. It is hoped that this learning method will help students develop the values of cooperation, togetherness, leadership, critical thinking, and creativity required when dealing with technology because machines cannot yet replace them.
Collaborating
This collaborative lecture from four lectures, four study programs, and three faculties is expected to result in social entrepreneurs with extensive experience, knowledge, and strong social networks. Acep Purqon, Ph.D. (ITB Physics Study Program) led the learning team, including Ramadhani Eka Putra, Ph.D. (ITB Agricultural Engineering Study Program), Melia Famiola, Ph.D. (ITB Entrepreneurship Study Program), and Dr. Utriweni Mukhaiyar (ITB Actuarial Study Program).
"The ITB sees collaboration as an important goal to achieve in the future. This event is the first activity in a collaborative program between study programs and faculties, helping us deliver our future lectures. You are all the golden generation for Indonesia. You hold the nation's fate in your hands. Prepare everything as thoroughly as possible by networking and cooperating because we are no longer in a monodisciplinary but a multidisciplinary era. It is no longer the 1+1 era, so we must be able to do more," said Acep Purqon, Ph.D.
Best wishes to all of us! There is no such thing as success without preparation.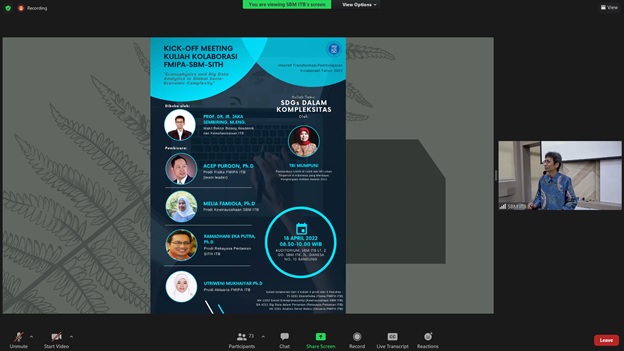 Written by Student Reporter (Erwin Josua, EMBA 2021)