Bachelor of Entrepreneurship
For you who aspire to develop and manage your own business venture,
here's a great place for you to start off
The practical approach of this program designed by our lecturers who are experts from the worlds of business and research gives you the opportunity to interact with real entrepreneurs and gain industry experience.
Once you get in, you will be in the ecosystem of active learners where students proactively create their own opportunities in order to enhance their learning and implement it to their business which they manage along the study. To build your business competitive advantage, we highly encourage cross-disciplinary collaboration with other majors in ITB, from STEM to art and design, as we believe it will trigger astonishing innovations for your business. Also, you can get your business supported by SBM ITB business incubator and business laboratories. There, you can leverage your network and get best practical advice from industry experts and stakeholders.
So, ready to make the most of your study and transform yourself to be an innovative entrepreneur?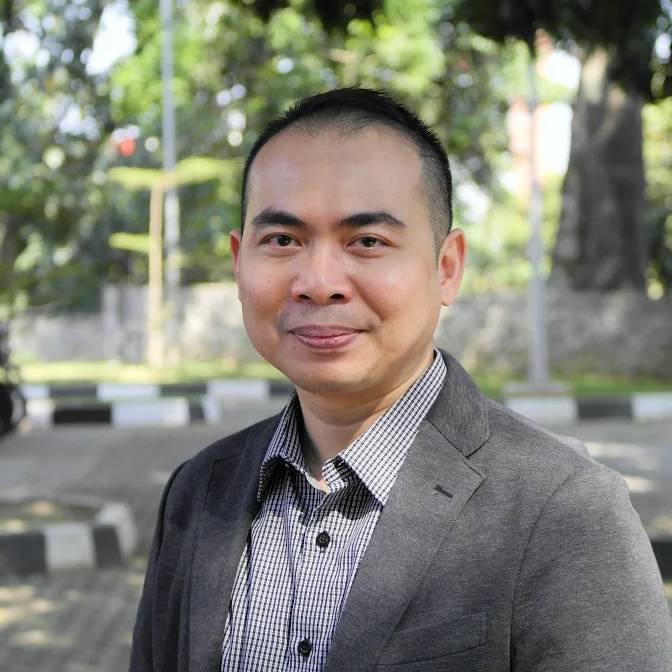 Akbar Adhiutama, Ph.D
Director of Bachelor of Entrepreneurship
Learning Goals & Objectives
Here are aspects that we aim to get you excel on throughout your journey in Bachelor of Entrepreneurship program:
Business Knowledge
Understand the business concept including business preparation such as research the market; collect and analyze the supporting data

Familiar and accustomed with opportunity identification

Know how to develop the idea into the feasible business opportunity and explain it into the detailed business planning and model
Entrepreneurial Attitude
Manage the risks related to start up and use their scarce resource and data as their basis for decision

Having persistence attitude in facing the dynamic business environment
Business Practice
Executing Their Business Idea

Applying Business Knowledge in their startup Business

Applying Skills in Term of Managing Resources in Their Business
Value Creation
Understand the concept of creativity and innovation

Analyzing the problem and offering alternatives solution in the business context

Understand the concepts of new product developmentUnderstand the concepts of business development process
Sustainable & Ethical Business Strategies
Running their business with environmental and social consciousness

Responsible and ethical in doing the business
Commencement date:
Every August
Length of study:
3-year program
Total credits:
144 credit-hours
Broaden your perspectives. Engage with classmates which diverse in cultures and backgrounds.
Enhance your soft-skills by facing various team projects and challenges.
Semester 1
Required courses:
Business Mathematics I
Introduction to Engineering and Design I
English
Introduction to Business
Introduction to Information Technology
Performance Art
Sports
Semester 2
Required courses:
Business Mathematics II
Business Statistics
Introduction to Engineering and Design II
Leadership and Management Practice
Indonesian Language: Scientific Writing
Study of Human Society
Semester 3
Required courses:
Basic Accountings
Business Economics
Design Thinking for Innovations
Learn the business cycle start from the design thinking process, business model and system planning, technology-based business, business feasibility planning, and technology commercialization. You will be introduced to technology push products and technology pull products and conceive how to commercialize.
Semester 4
Required courses:
Business Model and System Design
Environmental Management System
Religion and Ethics
Managerial Accounting
Marketing and Sales
Technology and Production System
Small and Micro Business
Technology Based Business
Semester 5
Required courses:
Business Computing and Analytics
Business Planning and Feasibility
Business Risk Analysis
Multivariate Statistics
Organization and Human Capital Management
Pancasila and Civic Education
Social Entrepreneurship
Technology Commercialization
Semester 6
Required courses:
Business Initiation Practices
Entrepreneurship Mentoring 1
Investment and Capital Analysis
Master the major that in line with the future career you have in mind. Be it Marketing, Finance, Operations, Human Capitals, or Decision Making.
Enroll in elective courses that enrich your business and management knowledge comprehensively.
Semester 7
Required courses:
Business Law and Contract System
Communication and Business Negotiations
Initial Business Practices
Entrepreneurship Mentoring 2
Elective 1
Elective 2
Semester 8
Required courses:
Business Development Practices
Business Growth Strategies
Business Research Methods
Entrepreneurship Mentoring 3
Elective 3
Elective 4
Semester 9
Required courses:
Entrepreneurship Dynamics
Final Project
Elective 5
Business Finance
Brand Development and Management
Corporate Entrepreneurship
Creative and Cultural Entrepreneurship
Creativity and Innovation
Decision Making and Analysis
Intellectual Property Management
Management of Technology
New Product Development
Service Business
Tourism Business
Venture Capital Business
Quality Control and Management