Doctor of Science in Management
is a well-designed program offered by the best research university in Indonesia
To develop not only students' analytical and research skills, but also the ability to contribute significantly to the development of new theories, methodologies and knowledge relevant to a discipline or industry.
The structured course provides students with the knowledge and skills to investigate real world problems from theoretical perspectives and empirical methods. Students will be able to understand and critically think how to be independent analysts and researchers that can lead and manage a business based on practical implications of their research. Students are motivated to solve not only management problems but also other aspects such as social, ethical, and environmental issues that may impact on the business especially in the context of Indonesia.
This program will provide students with the philosophical foundation of business and management to be able to think conceptually, synthesize theories, understand the state-of-the-art of the specific area in business and management, and thus be able to make recommendations for future research that will contribute significantly to the literature. Students will also be equipped with contemporary qualitative and quantitative research methods to develop their research skills. Therefore, students will be able to collect data from multiple sources and conduct data analysis ethically to provide findings that will benefit business, government, and the society. Students will also be able to write, present, and publish academic papers in English for national and/or international audiences.
The curriculum is always updated to meet the future trend and the global quality standard. All courses are designed with the depth and complexity for students to understand the latest thinking and the current application of business and management theoretical framework and research methods. Our prominent professors with their expertise will encourage intellectual discovery and development. They will also challenge students to develop new insights from the real case of Indonesia context with diverse cultures and unique situations.
Through collaboration with the research centers at our School and the support from the university, students will be provided with plenty opportunities of scholarships and research supports. Further, our double degree programs with high-ranked business schools in the world provide not only financial supports, but also exposure to international learning and research experience.
The inspiring and supporting research environment will develop our graduates to be able to publish in national and international journals, and present at international conferences. These skills enhance their reputation as independent researchers who are experts in their fields. Therefore, our graduates with those skills have developed career and been promoted not only in academic institutions but also in other research institutions such as policy makers, research centers, and business analysts/consultants.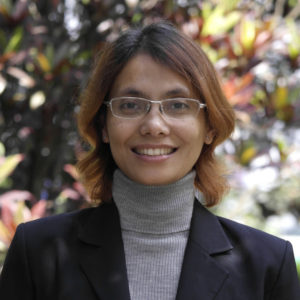 Dr. Yunieta Anny Nainggolan
Director of DSM Program
Doctoral Program for Academicians
Study at our Bandung Campus. Weekday class-based.
Doctoral Program for Professionals
Study at our Jakarta Campus. Weekend class-based.
Learning Goals & Objectives
Here are aspects that we aim to get you excel on throughout your journey in Doctor of Science in Management program:
Annually, DSM ITB commence classes on August. Early preparation become the important step to enrol and start an embarking journey with DSM ITB. Below is the FAQs about admission:
DSM ITB's scholarship for academicians is available for up to 6 students covers course tuition fees and monthly living allowance for three years or 6 semesters. Other scholarship opportunities are available from LPDP, DIKTI, or from other institutions.