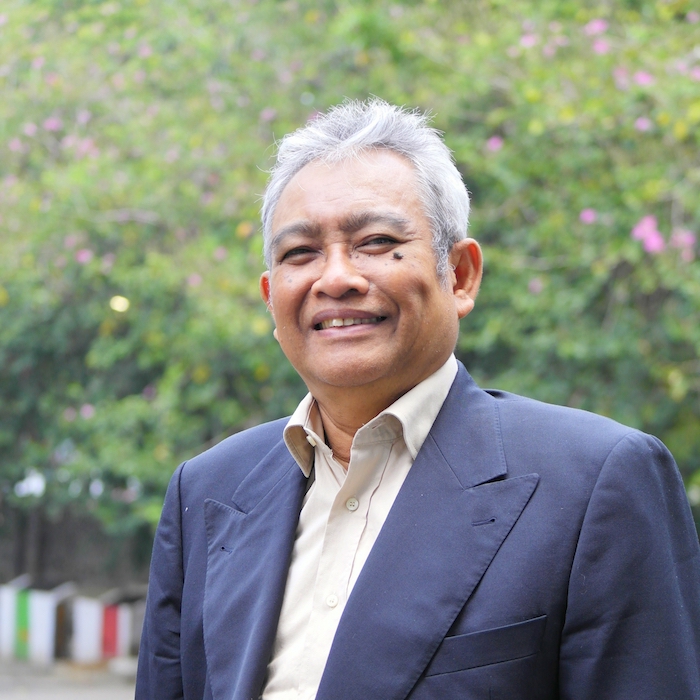 Profile
DR. Sudarso has been studying Finance since 1985, after completing his doctorate at the Institute Administration des Entreprise (IAE) Aix-en-Provence, Universite Aix Marseille III in France. He has taught Financial Management courses at the MBA-ITB Program since 1990, and previously taught at the Industrial Engineering S1 Program ITB in the Financial Analysis course, and S2-TMI ITB in the Financial Management course. Practical experience in handling companies, carried out in 1996 when he served as Director of PT Garuda Indonesia. Previously, from 1993 to 1996, he served as Head of the TU-BUMN Bureau of the Ministry of Transportation, which handled 18 SOEs within the Ministry of Transportation. After completing his assignment at PT. Garuda Indonesia in 1998.
His field of research up to now covers various topics on Risk Management, Financial Management, and Islamic Finance and Banking. In the field of Risk Management, Prof. Sudarso along with two other lecturers have published a book entitled "Risk Management for Start Ups". Many research results and publications have been published (more than 70 papers) in various reputable journals, and have obtained one patent/HAKI.
As a professional, DR. Sudarso has also obtained Certification in the field of Risk Management from BSMR, CWM (Certified Wealth Management), CRMP (Certified Risk Management Professional), CFRM (Certified Financial Risk Management), etc.
Prof. Sudarso is still leading the Business and Financial Risk Expertise Group (KK-BRF), which he founded in 2004 after SBM was established in 2003. Besides that, Prof. Sudarso also guides many students, both at the Bachelor, Master, and Doctorate levels, especially those who take research topics in the fields of Risk Management, Finance, and Islamic Finance and Banking.
Teaching
MB1101 - Introduction to Business
MB2203 - Financial Management
MB4047 - Business Risk and Venture Capital
MB5204 - Fixed Income and Derivatives
MB6004 - Financial Risk Management
MB6061 - Islamic Financial System
MB6067 - Financial Risk Management
MB60M2 - Fundamentals of Financial Management
MB7104 - Preparation Examination
MM5006 - Financial Management and Policy
MM5007 - Financial Management
MM5025 - Sharia Finance
MM6021 - Corporate Risk Management
MM6022 - Islamic Banking System
MM6033 - Corporate Risk Management