The Global Brands Magazine (GBM), UK, awarded School of Business and Management Institut Teknologi Bandung (SBM ITB) brand the title "Best Business School, Indonesia 2018." This is the second year that this international magazine nominates and selects brands with outstanding achievement and excellence in the financial sector worldwide, granted this honor to SBM ITB.

GBM is a prestigious online and print magazine in the United Kingdom for leading brands of all industries across the globe. GBM provides the readers with in-depth and updated news, reviews, opinions, polls on "best-in-class" brands.
This year's award winners were selected from a very competitive group of entrants. SBM ITB was awarded this honor for exceptional commitment to innovation in education, quality of learning process, branding Activities, and providing an extended business and management knowledge to Indonesia's society. Awards night was held in a prestigious hotel in Macau, Banyan Ballroom on Friday, 25 January 2019. SBM ITB's representatives were Prof. Utomo Sarjono Putro, Vice Dean of Academics and Dr. Yos Sunitiyoso, Director of MBA Program Jakarta Campus.
In this occasion, Prof. Utomo Sarjono Putro shared, "Our business school is one of a kind. We are a business school under an institute of technology. We focus on developing entrepreneurs, especially technology based entrepreneurs. I am extremely honored on behalf of SBM ITB, to receive this distinguished award for the second time. This is a happy moment for students, faculties, and staffs, also the alumni of our school. To extend the learning process, our school recently developed the project to rearrange the business and management curriculum that will be fit in facing digital era. We hope SBM ITB will produce more alumni who will be leaders of the future Indonesia".
In addition of GBM award for SBM ITB, on worldwide rankings SBM ITB granted top ranking level from prestigious rankings platforms in the world for the Business and Management studies subject such as QS Ranking and Times Higher Education (THE). SBM ITB achieved top 201-250 in the QS Ranking, making SBM ITB achieved the highest rank of business school in Indonesia year 2018. The QS World University Rankings by Subject ranks the world's top universities in individual subject areas, covering 48 subjects as of 2018. The rankings aim to help prospective students identify the world's leading schools in their chosen field, with the list of subjects extended each year in response to high demand for subject-level comparisons. Each of the subject rankings is compiled using four sources. The first two of these are QSs global surveys of academics and employers, which are used to assess institutions' international reputation in each subject. The second two indicators assess research impact, based on research citations per paper and h-index in the relevant subject. These are sourced from Elsevier's Scopus database, the world's most comprehensive research citations database.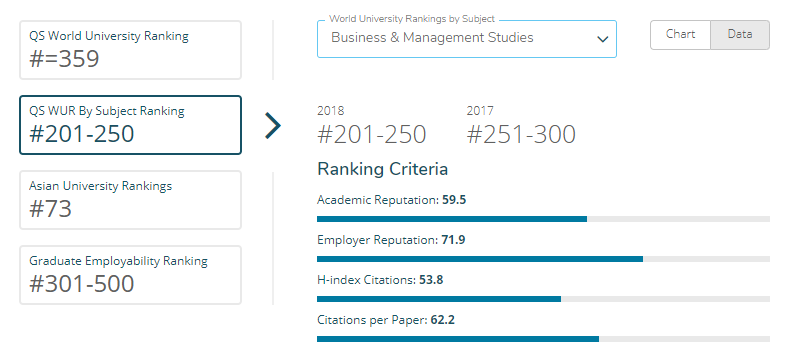 Meanwhile the Times Higher Education (THE) 2019 World University Rankings place SBM ITB in the Top 401-500 universities globally for its business and economics subjects' putting the business school on par for the top spot in Indonesia, the only one Indonesia's business school among Top 500 world rankings. As a newcomer in THE ranking, the results achieved are quite good, amid the increasingly fierce development and competition especially in Asia. Taking into consideration 13 key performance indicators across teaching, research, knowledge transfer and international outlook, THE is a leading provider of global higher education data for research-led institutions.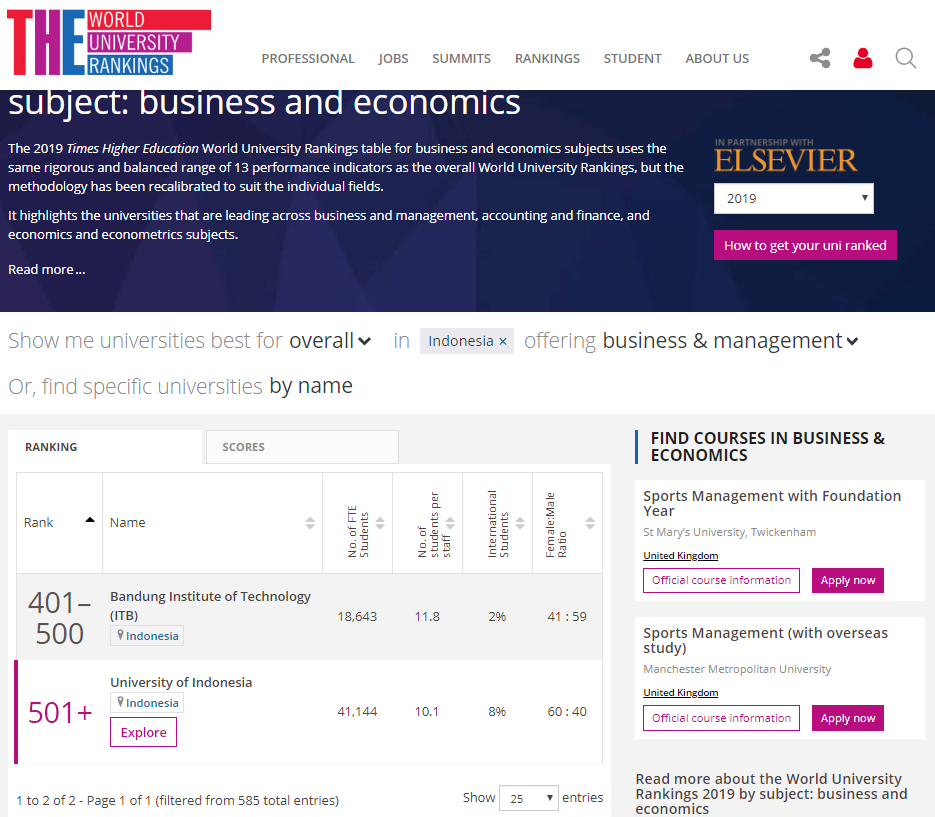 Award announcement on GBM: https://www.globalbrandsmagazine.com/award-winners-2018/.
Written by: Margareth Tobing, MBA