Just before the school starts, we've put together a list of the four best productive spots on campus, whether to be just on your own, or together with friends. All the spots are connected with unlimited fast wi-fi access.
1. BCA Library 
Want to find inspirations? Immerse your mind with selected business books and international magazines in our library. Pick your comfy spot, either on the couches, the cubicles, or the balcony. This is final year students most favorite study spots as they could find alumni's theses for their references on the shelves.
2. School Lounges 
Need a place to discuss? Well, we have communal spaces located in every floor!
3. Payung
Payung, which means umbrella in Indonesia, are located in Kresna building area (but now we already renovated this area to become more sophisticated). To boost your productivity, you can also buy your daily dose of coffee here at Wuzz Coffee.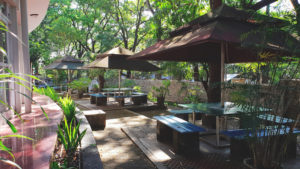 4. Sleeping Pod
Incubate your memories of what you read and studied here.
Have any other recommended productive spots in SBM ITB main building? Share it in your instagram story and tag @sbmitbofficial.