Idealogy Bootcamp is an annual event held by SBM ITB, aims to introduce a course subject Technology Based Business (TBB), create  technopreneur ecosystem in ITB, and also to nourish a spirit of collaboration among students from various Faculty and Schools in ITB.  
The bootcamp was held for two days, 15 and 16 July 2019, in Aula Timur ITB. It was attended by 200 students and was opened on Monday, 15 July, by Dr. Yuli Setyo Indarti, ITB Director of Education.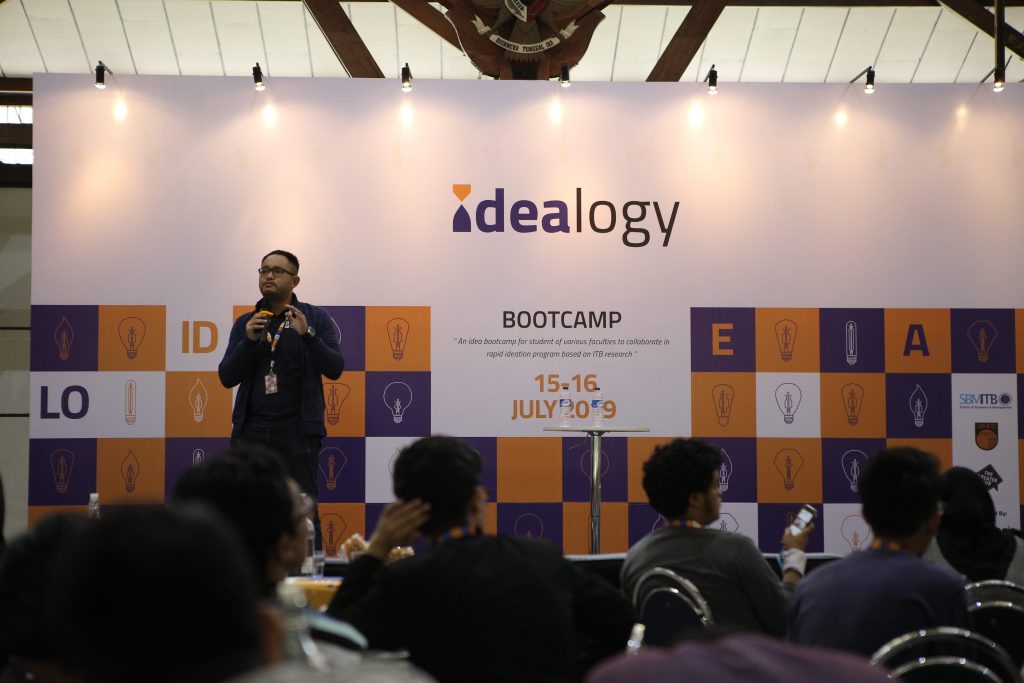 Okie Earlivan, CEO of Triplogic, was present as one of speakers and emphasized in his speech about how collaboration is a major essential part in developing a start up company. He also provided some tips on how to develop product that would interest investors. The second speaker, CEO Warung Pintar Agung Bezhari, encouraged all participants to endure iteration process in company as it is the key to develop a good product. Last pspeaker, CEO eFishery Gibran Huzaifah, urged all participants to create innovative product ideas which have a positive social impact.
On the first day, all participants engaged in rapid ideation based on results of research and invention from various labs in ITB. While on the second day, participants created prototype of their idea and presented the product to examiner. The workshop used a method with Technology Push approach, where participants had to think through and employed available technologies chosen from various laboratories in ITB, including from LPIK.
Participants were made into a group of 5, consisting students from different study programme. Each group had a facilitator who assisted them in finishing tasks from lead facilitator, with materials including Ad-Lib Canvas, Value Preposition Canvas, Experiment Canvas, Javelin Board, Technology/Investment Readiness Level, Technology Roadmap and Prototype Story Board.
The bootcamp resulted in product prototypes and pitch decks, developed from participants' ideas. Most of these ideas were interesting and facilitators were in charge to give final score for participants. Three best groups, Baruna, Log-It, and Tak Telat, were awarded "Summer School Scholarship Program", a cooperative program between business incubator, The Greater Hub, and Temasek.