Written by Student Reporter, Evita Sonny (Management 2020)
Dermawan Wibisono, Ir., Dr., Ph.D. is one of the founders of SBM ITB. Together with several other ITB lecturers, Prof. Dermawan agreed that there must be a business and management faculty at ITB. This is because engineering majors are only taught to produce, not to market. Therefore, the synergy movement between engineering and business study programs become so important to create ITB as a whole complete institution. 
Through a long process, finally, SBM, the one and only social science faculty at ITB, is officially established in December 2003. Unlike the other management and business faculties, SBM ITB is designed to make its students have firstly practiced before getting the theories. The learning period also shorter than others, only three years.
Currently, Prof. Dermawan works as a senior lecturer in a performance management course at SBM ITB. Not only active as a lecturing professor, but he also becomes a Pertamina University Dean in two faculties at a time. They are the Faculty of Economics and Business as well as the Faculty of Diplomacy and Communication. 
Prof. Dermawan received his Bachelor of Industrial Engineering from ITB in 1989. He also earned his Master of Engineering from Royal Melbourne Institute of Technology, Australia in 1999. His Doctoral degree in Performance Management (2003) is from the University of Bradford, UK. To complete his study journey, he always success to get scholarships.
Prof. Dermawan already used to be a class champion since elementary school. His young spirit in getting a better man each day had guided him to continue his study in a more challenging school, SMA 3 Semarang. He is always excited in study. A far distance from his house and school was never hinder him. "If you can be the best why settle for less," he said when he asked about his life motto. Not only until high school, but his motto also keeps going to be his jargon until now. All scholarships and many achievements are all based on the spirit of hard work to be the best. Devoting himself as an educator makes him also hope that his motto also becomes the foundation of ITB's passion to continue to be the best.
In facing demographically bonus and industry revolution 4.0, Prof. Dermawan is strongly support a new education system in Indonesia. "Elementary school students should not be familiarized with only multiple-choice questions, but also educated to dare to express their opinions."
"Some are ready, and some are not. Still partial, not all Indonesians are ready with those new era fast change. Digitalization knowledge, as well as international language ability, become so important as things which underlie advancement," he added.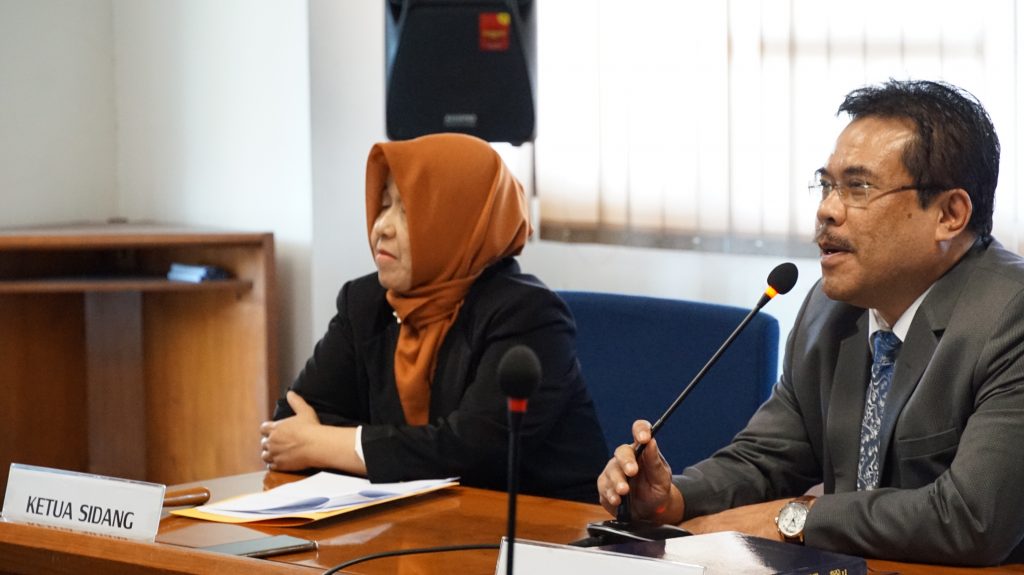 He also mentions about the disparity in education quality. "If our citizens are not educated properly academically and behaviorally, then, Indonesia will be facing chaos." He wants Indonesia's young generation to have study willingness as high as possible. "Access to study is now wide open, even opportunities to get scholarships abroad are also available anywhere."
He also emphasizes how managing time is really important. Being productive is also crucial. Besides writing so many journals, Prof. Dermawan also famous for his writing achievements. He now has published five novels, and one of them, named Gading-Gading Ganesha has adopted to be a movie. Prof. Dermawan told that he has a habit to wake up every 3 A.M. He will use his two hours in the morning to write any notes or stories. To him, it was a recreation. "Our time in the morning before we going to do our activities turns out the best time to think freshly," he said.
He also shared what he learned from Benjamin Franklin. "My life is get much influence from Benjamin Franklin. In his book, Franklin once said to make a schedule every day. Thus, at the end of the day, we do correct our time usage. The gap means we are do not doing what we should do while false alarm means we do something that doesn't need to be done. And by doing that, we can surely get used to carefully using our time," he answer when he was been asked why he can be so productive.
The same thing goes when he is facing obstacles, "Franklin also taught me to list what challenges that make me scared, and as long as it doesn't make me die or get very sick, then there is no reason for me to be so afraid to face it. This way of thinking is guiding me to never afraid"