Written by Student Reporter, Evita Sonny (Management 2020)
Lead by Galih Fajar Ramdhan, ITB biomedical engineering alumni (batch 2015), Nigromo which is one of the tenants at SBM ITB, is now developing an innovation towards blood sugar checking. Galih and his team are about making a new system of methodology which allows checking blood sugar levels without taking blood samples. This system is working without injecting or hurting the patient's skin.
"From the very beginning, this idea came out when I was searching for my final project topic. Then, I finally look for this opportunity. And day by day, I just very interested in making it become a real-commercial product," Galih said. He was aware that there are so many Indonesians who are suffering from diabetes. And, they are facing obstacles in checking their blood sugar levels regularly. The first is because of access. Not every patient has good access in reaching the hospital or clinic, especially the one who lives in rural areas. Second is because the patient needs to prepare a huge amount of money since each check requires one blood sample drop strip. Third, not everyone is brave enough in being injected. Some of them take this matter into a big deal.
Then, by successfully seeing the market condition, Galih assure to bring out this idea to a business incubator or even competitions. 
Nigromo works by using Near-Infrared Spectroscopy (NIRS). Near-Infrared Spectroscopy (NIRS) is an analytical technique that uses a source of producing light of known wavelength patterns and that enables us to obtain a complete picture of the organic composition of the analyzed material. So does, Nigromo is only pinching the patient's finger, and it would be firing light with a certain wavelength which glucose absorbed. Then, some of the light that is not absorbed by glucose will then be continue fired into the light sensor. The amount of lights that absorb is represented by how much the sugar blood level the patient is having. The way to know if this amount of light absorbed is simply measured the rest of the lights that continue fired to the light sensor. 
Nigromo is currently still in the product research and development stage. It was not ready to commercialize considering medical equipment must go through a very complicated test and strict regulation. They must first ensure that Nigromo is absolutely safe to use. Yet, even though Nigromo is only started operating within a year, it is making really good progress since they are already having 89 samples with the tolerated result (the average error is only about 5 milligrams per deciliter). Nigromo also has ever become a finalist in Nutrifood Research competition 2019.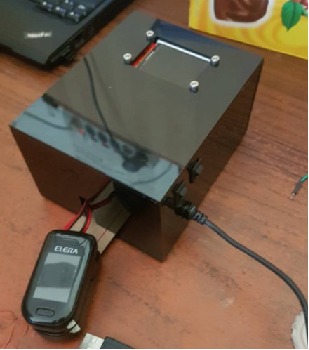 "Next, in this six month until one year ahead, we will strive to develop Nigromo to minimize the error rate and improve the product case design to be smaller, expected to be in the pocket size, so it allows the patient to check their blood sugar level anywhere and anytime. We also challenge to join a government start-up program named Calon Perusahaan Pemula Berbasis Teknologi (CPPBT)," Galih said.
Galih as the Nigromo CEO and product lead developer said that the toughest in building this project is the team suitability and limited resources. The inner team of this project (two others' Galih mate in finishing the final project) is now busy in professional works, the one who keeps going this business from its very beginning is only Galih. But, now it does not become a problem anymore since Galih finds another team in attaining his goals. This kind of same research is also very little. Even some research has the same product's idea function, yet the methodology is different. Some other times, Nigromo is sometimes following new ideas from proven research, but not infrequently it just facing failure.
By joining SBM ITB Business Incubator The Greater Hub, Galih is very grateful that he gets an opportunity in getting new network and mentoring. "The mentor comes from the real professionals, even The Greater Hub ever brings in the angel.id as the mentor. Not only that, but we can also brainstorm and exchange information regarding what the other tenant obstacles, and how they overcome it" Galih said.
"With all my opportunities to be able to study at ITB, complete with the knowledge I have gained, I have the responsibility to make something in return for many people. I don't want to waste the things that I've got. I have to maximize it as possible," he added.