The School of Business and Management of Bandung Institute of Technology once again inaugurated the SBM ITB Alumni Association (IASM ITB) 2019. The Dean of SBM ITB, Prof. Dr. Ir. Sudarso Kaderi Wiryono, DEA welcomed the activities. According to him "during the learning process on campus, the bachelor degree program (S1) has formed the character of students".
"So the main pride is usually in the bachelor program. This is one thing that makes us proud as SBM ITB family," said Sudarso during the Inauguration of the Chair of SBM ITB Alumni Association with the theme "First Step of a Thousand Journey at SBM ITB campus, Bandung, Saturday (12/21/2019)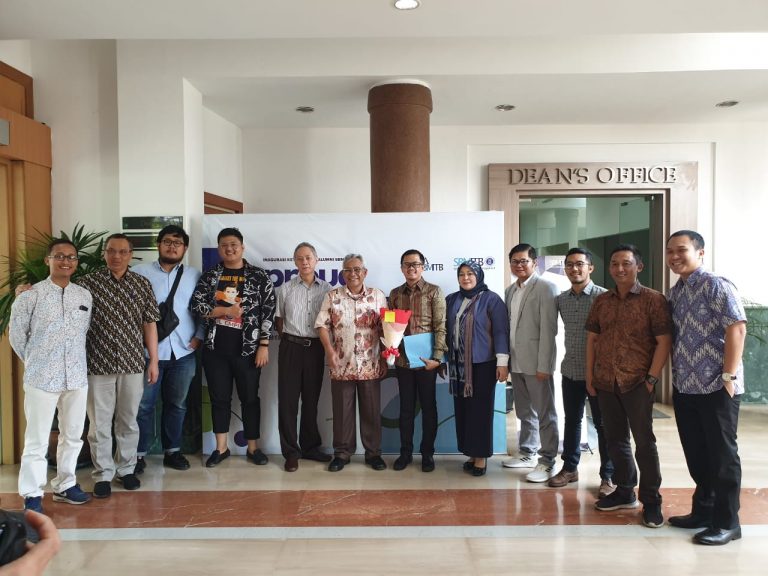 Sudarso said he was optimistic that the greatness and the success of an institution, especially in the field of Education is on the hands of the alumni.
Hopefully, in the future the relationship between alumni and the campus will be closer and more reliable, so that they can share each other more often.
"In the past, many alumni who have become Ministers in the Cabinet make us proud. The great reputation of the university is because of its alumni," According to him, "there is a learning process given by the lecturer, the accumulation of knowledge is obtained from each graduate."
"That is why I believe that a great person is not the one with 4.0 GPA. His GPA may be normal, but he succeeded. So the success of graduates cannot be measured from GPA," he said.
He also mentioned that those who lead SBM alumni association do not have master or doctoral degrees. "Please, going forward, it will be great. I agree that the attention is because of the role of the alumni," he stressed.
Sudarso added that, at the 16th SBM ITB, as an organization is relatively young compared to ITB which in July 2020 turned 100 years old. However, with this relatively young age, there have been many innovations in business and technology. "The point is for the success of this organization we must collaborate" he said.
He also invited the alumni to frequently visit SBM ITB to exchange and share information with students who are still in college. "Let's help each other together. At least we can share experiences" he said.
Meanwhile, Chair of the ITB SBM Alumni Association (IASM ITB), Radeya Pranata S, Mn. MIB told that it is now is a great time to collaborate with SBM ITB because the various successful graduates who have spread in the workforce now would be different from the previous graduates, for example, business games or big data analysis.
"The target is that we must encourage alumni in any field to improve their careers even more significantly. Those who become entrepreneurs can improve the community's economy" he concluded.