Written by Student Reporter, Cynthia Subroto (MBA 2019)
MBA ITB invited Mr. Iwan Krisnanto as the Senior Vice President (SVP) of Material and Supply Chain Management at PT Dirgantara Indonesia (PTDI) as a Guest Lecturer in MM 5004 – Operation Management class on Monday, 24 February 2020. It has only been a month since he was appointed to be the SVP of Material and Supply Chain Management, while beforehand he was the SVP of Corporate Planning and Program Management in the same company.
"Supply chain is very important because PTDI is located in Indonesia while many of the items needed in the production are from abroad," said Mr. Iwan. The geographical condition is less favorable for the company, thus PTDI should have strategy to overcome this problem otherwise the company will not survive.
At the beginning of the lecture, Mr. Iwan introduced PTDI at a glance. PTDI's focus business is turboprop aircraft as stated in the vision of PTDI is to lead the medium and light turboprop aircraft market. Lines of business of PTDI are aircraft, aerostructure, aircraft services, and technology services. Its customers are mostly from abroad.
As explained previously, many items needed in the production are from abroad, for example the product of CN235 airplane, it needs 8000+ procured items which become the biggest problem because it much depends on overseas shipping. "If there is a problem such as Corona Virus that is happening right now, it will affect the items shipped from or via China become hampered. It is very important to do a planning," told Mr. Iwan.
PTDI produces aircraft and gives services such as maintenance. The production business process includes program management, manufacturing engineering, production planning and control, quality assurance, design office, procurement and logistics, detail part manufacturing, and assembly. The process is very long thus the challenge is that the risk becomes very broad. Mr. Iwan explained, "To deal with that, lean manufacturing is needed by eliminating the waste and nonvalue-added activities." The waste is represented by an acronym TIM WOODS (Transport, Inventory, Motion, Waiting, Over production, Over processing, Defect, Skills). He added, "All these wastes are in PTDI and there is too much inventory currently."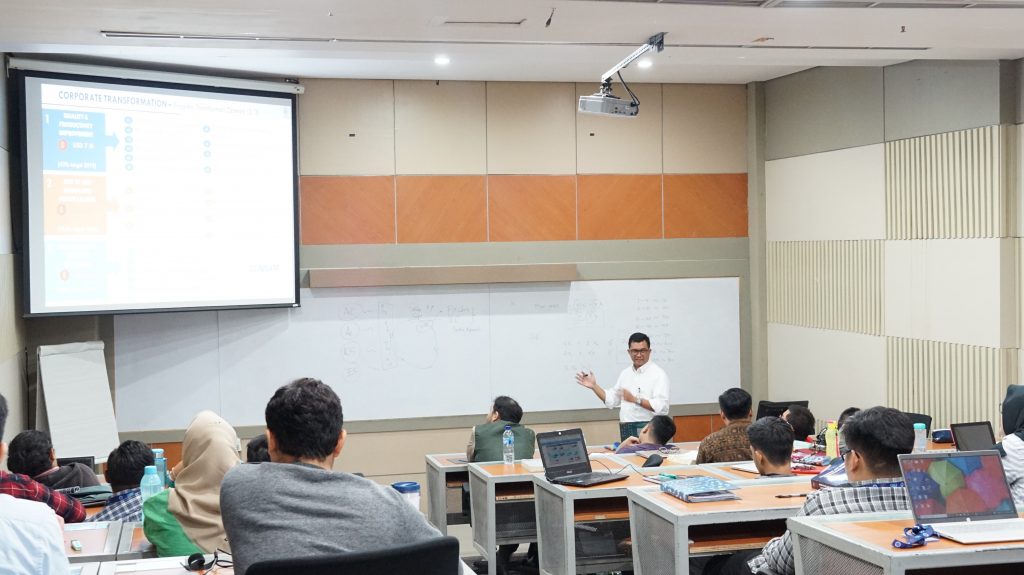 PTDI is also doing corporate transformation that divided into three groups which are culture and mindset transformation, business transformation, and operation transformation. For operation transformation, currently PTDI is doing quality and productivity improvement, end to end integrated program management, and procurement and logistics excellence. The results of the transformation have been proven by a decrease in material, operating costs, and marketing costs which cause increase in profit. The lecture was closed by question and answer session. Many of the students asked to Mr. Iwan and get a lot of insights from the lecture.