Written by Student Reporter, Aldi Aldinar (Entrepreneurship 2020)
As one of the big cities in Indonesia, Bandung is inhabited almost 2.5 million people that can generate almost 1.500 tons of waste every day or it is equal to fill one football field at the time. Managing this issue will require a new approach and revolution action especially when we are facing the old system. In PD Kebersihan Bandung, the only regional government-owned enterprise that is operating in waste management. I am implementing Theory U in the waste management business" Mr. Gun Gun opens his presentation.
Mr. Gun Gun Saptari Hidayat S.T. is one of the well-known ITB alumni who becomes the main director in PD Kebersihan in Bandung. He graduated from ITB majoring in environmental engineering (FTSL ITB) in 1998. He is well-known for his contribution on tackling the environmental issue, especially in Bandung. Recently he is running a campaign of home-based waste management called Kang Pis Man or Kurangi (Reduce) Pisahkan (separate) and Manfaatkan (Reuse).
He started his journey in implementing the Theory U when he is pointed as the youngest director of PD Kebersihan Bandung by the former city mayor, Mr. Ridwan Kamil. He describes that at the time the management of PD Kebersihan is not running well. The old system is outdated that makes the company is stagnant.  To transform the condition, he tries the theory U by downloading the past pattern and old system, sensing and validating the problem in the company by listening carefully to his employee's opinion.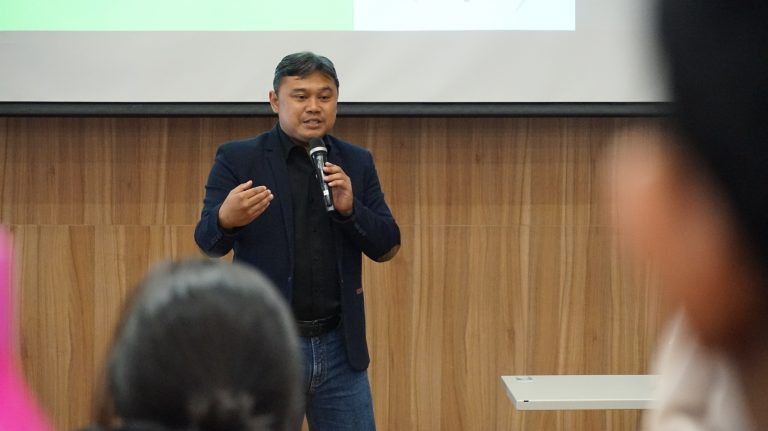 After he gets the validated problem and alternative solution from his employees, Mr. Gun Gun is pointing out several issues, such as subjectivity, lack of quality control, fraud and low human resources quality. Then he tries to solve this issue by uniting the perception toward the importance of the company through sharing vision and workshop that can change the mindset of its employees, upscaling the capability and leveraging employee's motivation.
The next step is ideating the alternative solutions for addressing the company problem, Then he proposed several solutions, such as rebranding the company value, building company culture, making standard operational procedure to control the business process, changing the company's perception through social media marketing and focusing on service quality. He made a fast response team for answering people's complain and special team for hotel, restaurant, and café in Bandung.
"We used to believe the myth that human resources is the company assets yet the most precious assets is high-quality human resources while the low-quality human resources are a liability."  Mr. Gun Gun emphasizes that high capable human resource is important to make a transformation in his guest lecture session of Introduction to Design and Engineering in Auditorium Nemangkawi on Wednesday, February 26th, 2020.