Written by Student Reporter, Deo Fernando (Entrepreneurship 2021)
There are so many career choices we can take after graduation. Some of us may be work in a company, become consultants, or build startups. Life after graduation is very different from life in college. To that end, the Management Student association (KMM) held a seminar that attended ITB alumni who worked in Corporate, startup, and consulting. The seminar was held in the 2nd floor SBM auditorium on Saturday (03/14/2020). Attended by Sellena Halim who advertising performance at Blibli.com, Alvin Tanthio People & culture at PT HM Sampoerna Tbk, Caren kristy who Project Specialist at Boston Consulting Group, and Afwan Rifqiya who is a senior Marketing Analyst-offline traveloka media.
"We hope this seminar will give benefit to us. Just enjoy the seminar because the insight is useful for all of us", the Chairman of KMM Farel Fasco El Farabi said.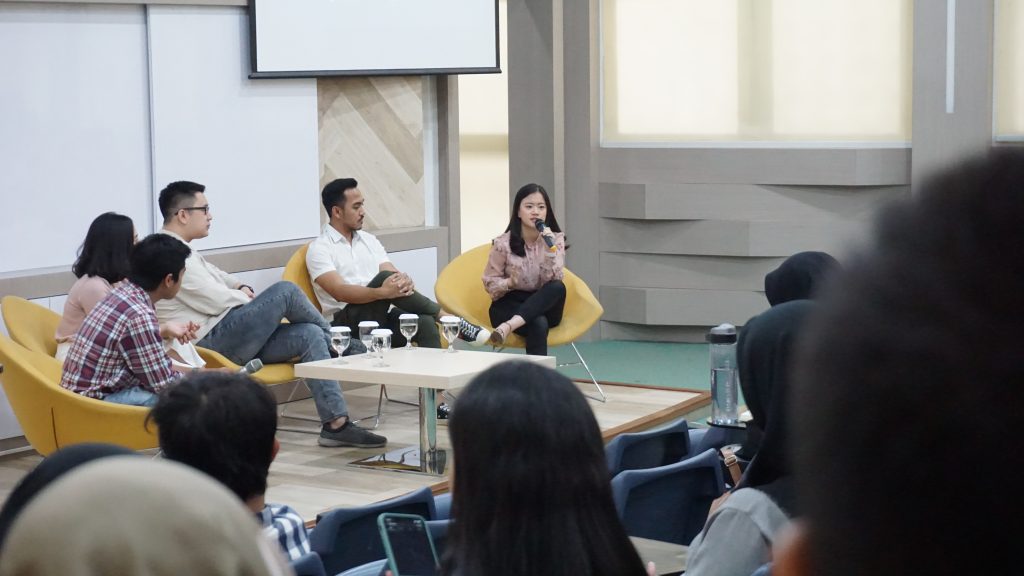 Furthermore, the topic discussed is related to how to choose a suitable career. Caren Kristy said that we determine career depends on our objectives, it cannot be equated with everyone. "People's objectives are different, for example, me that want to explore, because I have to find something for learning and pressure," Caren said. 
Talking about objectives, alfin added that we can expect experience from a job, money or whatever. For this reason, there are two approaches we can take in choosing work. The first approach is that we choose work that is truly in accordance with our expertise that relies on our strengths, and the second is work that is not following our expertise so that the challenge is bigger. 
The next speaker, Afwan gave the opinion that we better think about and define our happiness first. By defining happiness, then when we work we are always excited. "When you graduate you think more, defining happiness so that the passion for the job." In entering the workforce. We better look for experience first through the internship. That way we can feel how the atmosphere or the environment of the world of work. Through an internship, in addition to gaining experience we can also have the opportunity to work in the company. However, Sellena said that with internship does not mean that we are more likely to get jobs because to be accepted at a company there are several recruitment processes that we must go through first.
In conducting recruitment, every company has a different way. It can be through graduate trainee programs, job fairs, recommendations, and through direct recruitment. As in consulting companies where prospective employees are selected by completing cases such as market sizing, and like traveloka who conducts the selection process of documents and interviews.
And the most important thing is, we must prepare ourselves as best we can. Never compare ourselves with the success of others, each of us has the same opportunity to succeed and work in the desired place, but maybe the time is different. "Like boarding a plane, everyone has different destinations, different tickets and different hours of departure. So don't compare yourself to others," Caren's advice to all participants.