Written by Student Reporter (Erwin Josua, EMBA, 2021)
Let's Overcome in the Middle of a Pandemic!
Lately, we have been wondering how we can survive amid this COVID-19 pandemic. Where uncertainty is something that has become commonplace, we hear in our minds. This condition creates negative feelings that can interfere with mental health in us.
In the virtual class at the School of Business Management, Bandung Institute of Technology, CEO and Co-founder of Nusantics, Sharlini Eriza Putri, shared stories of how this organization was able to rise to exceed expectations. (21/10/2020) After the spread of COVID-19, companies engaged in skin health and beauty are the same as other companies that have experienced disruption. Where in nature, the company changes in business lines. Even efforts in the field of care that require people to come to places are disturbed by the government's social restrictions. Limited mobility makes companies feel the need to create innovations that are solutions for society and the environment.
These conditions are not a big obstacle for the first beauty Microbiome company in the world to continue to grow. With core value sustainability and robust technology, adapting and being flexible to every condition has become a corporate culture that is always upheld by all company levels.
Departing from its concern for public health due to declining environmental conditions, this company has also developed a polymerase chain reaction (PCR) product with the Agency for the Assessment and Application of Technology and Biofarma. With this collaboration, Nusantics can contribute by making laboratory examination tools that can detect cell material, bacteria, and viruses in the human body. The good news is that this PCR has also been distributed to various regions in Indonesia.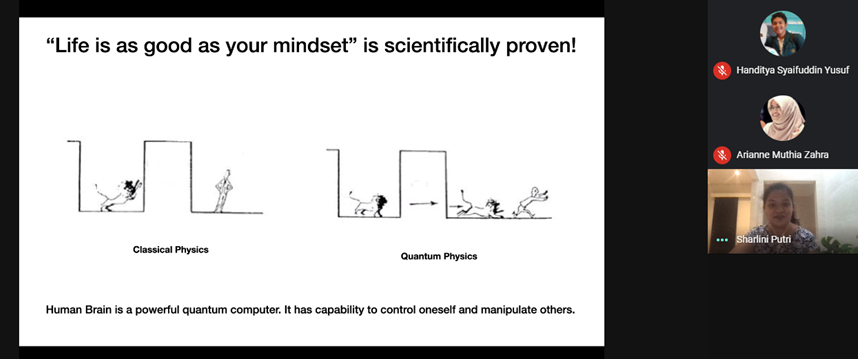 Widen Our Boundaries Of Thinking
The former head of alumni who received the Scholarship from the Education Fund Management Institute also realized that the current uncomfortable experience would cause anxiety. It makes us more closed to the various possibilities that exist. This condition is what will hinder innovation.
"We have to be able to become people who are open to conditions that are new and different from ourselves. Because with that exposure, we can create novelties. "Concluded this Industrial Engineering graduate from the Bandung Institute of Technology. "Apart from that, we also need to have a positive mindset, clear vision, and goals, make people aware of it, and the mentality of people who never give up. By doing so, we will be able to live to be great and useful for people for those around us," he added.
A Sustainable Energy Master graduate at Imperial College London also shared his experiences while studying abroad. "Expose ourselves to new things. In new conditions, networking with unique people also learns from cultures that are different from ourselves. Thus we can seek and discover many new possibilities and solve creative and solve problems," he concluded.