There are several forms of investment in the capital market that can be chosen, including bonds. Investors must know the detail of all aspects of bonds so they may carefully choose some types of bonds. 
Investment is a trend among millennials hotly discussed in various social media. There have been many emerging financial influencers lately. As a result of this trend, many people have been flocking to become investors. 
At PT Kustodian Sentral Efek Indonesia (KSEI) itself, the registered capital market investors reached 3.02 million investors as of July 2020 or 17.8% as compared to the previous year. On Thursday, (18/02/2021), the MBA program held a guest lecture that specifically discussed bonds. Coming to present the information, the Head of Fixed Income Research of PT Danareksa Sekuritas, Amir Dalimunthe discussed in detail all aspects of bonds and their valuations. 
As an experienced individual in the area of fixed income, he described bonds as debt securities issued by the issuer (the debtor) to meet his/her needs. In return, investors or bondholders can receive a number of coupons or interest during the duration determined by the issuer. 
"Because these bonds are debt securities, therefore, whoever becomes the issuer will try to pay the debt along with the interest to the bondholders. That's what makes bonds more likely to be safer than stocks," he said.
There are four different forms of interest or coupon payments in bonds. The first is the Zero-Coupon Bond, a bond that does not offer interest in the form of a coupon. In this type of bond, the bondholder gains profit from the margin between the deposit and the final value of the bond. The second is a bullet bond, where the gains of these bonds are paid out on their maturity date and returned to the bondholders. Third, which is a general description familiar to many people with fixed-rate bonds, where coupons are issued periodically with a constant amount and duration. And the last is a variable bond, which is a bond with an uncertain coupon. 
"In fact, the sense of this uncertainty is more about the variable being referred to, typically based on an agreement on the amount of the coupon, e.g. the reference interest rate set by Bank Indonesia, as well as the statistics that could be used as further comparisons," he added.
As an experienced fixed income analyst, he also urged us as investors to be careful. "Even though bonds are tools that are quite secure to possess, we must remain cautious. It is unusual, but in some cases corporate debt restructuring has taken place, where the issuer is having trouble repaying his/her loan funds to the bondholders, trying other ways to repay their debts. One of the things that are usually done is to turn bonds into securities," he said.
After we understand a little bit about bonds, would you consider buying bonds?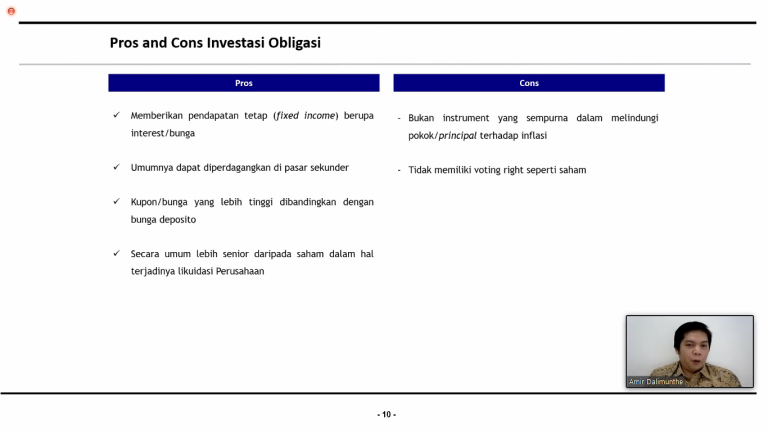 Written by Student Reporter (Erwin Josua, EMBA 2021)