Developing the company's brand is important for retaining consumers. The more a customer interacts with the company, the more likely they are to return to purchase. 
A brand is an identification of a business that distinguishes one from another. It is also an Intellectual Property, something that is started and built from square one which eventually became the essence of the company.
It was conveyed by Eka Sugiarto, the Chief of Media of Indonesia and SEAA Unilever Indonesia stated in her presentation on Saturday (27/2/2021). Moreover, the point of view of a company is also categorized as a brand. For instance, how one cosmetic company's regard as beauty may be different from that of another cosmetic company. 
"Doesn't necessarily mean one view is better than another, it is an inside opportunity that companies taking advantage of to approach their potential customers," Eka said.
Although the point of view of a company is a strong branding element, the measures taken to support the statements made regarding a matter are far more influential. For example, Ben & Jerry's are known to be unafraid to voice their opinions regarding social responsibility. Ben Cohen invented the term "Caring Capitalism" in the early 1980s when CSR (corporate social responsibility) was also on the rise. For their exemplary community advocacy, both Ben Cohen and Jerry Greenfield remain local Vermont and global heroes. For the last four decades, they've been an influence for many companies seeking to become more socially conscious.
Last but not least, unique experiences are also important. The trick to establishing a memorable brand for repeat buyers is to emphasize service above everything else. Any of the most well-known brands today generate aspirational environments that elicit emotions in both future and current consumers. 
The name of a company may not have as much worth at the beginning of its evolution. But, as the company grows it becomes the brand and an inseparable asset of the company. 
Next, Eka discussed the Brand Identity Prism developed by Jean-Noël Kapferer in 1996. The Kapferer Brand Identity Prism aligns these six components by recognizing their position between the company (Sender) and the customer (Recipient), and vice versa. 
Internal (Personality, Culture, Self-image) and external (Physique, Relationship, Reflection) areas are defined between these stages, and several pathways can be drawn to connect them. The Brand Identity Prism proves that a brand is multifaceted, hence, knowing one component is not enough to distinguish one company from another.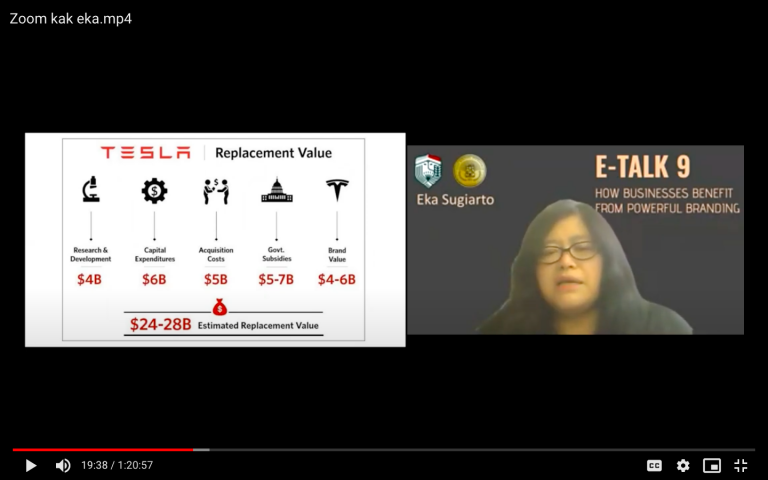 She later explained the benefits of developing powerful branding. "Investing in an iconic quality of a brand makes a brand long-lasting as it eventually creates a multisensorial brand image," Eka stated.
In other words, people are able to recognize the company's brand not only from the colour or font used, but they may also be able to recognize from the sound used in their advertisements or the ringtone of their application. 
Next is higher consumer loyalty. When a brand is easily recognizable along with having unique and great branding experiences from customers, people will tend to consider choosing that brand over another in their purchasing decisions. 
Subsequently, she mentioned other benefits such as word of mouth and advocacy, better effectiveness and ROI, rub-off to the parent company, higher stakeholder motivation, and lower price sensitivity.
"The secret to long-lasting and high brand recognition is through rigorous brand planning. We need to seek for brand purposes that benefit not only the company but also the society as a whole," Eka stated.
Written by Student Reporter (Mitsal Athaya, Management 2022)