Every founder wants their startup to keep sustaining. However, the founder of super apps Gojek, Nadiem Makarim, once said that more than 90 % of startups fail. 
To help the startup keep sustaining and growing, the greater hubs in collaboration with the bachelor of entrepreneurship invited the Chief Operating Officer (COO) of Agate, Shieny Aprilia, to share her experience about making Agate become a sustainable business.
"Our aim has always been to create a sustainable business even though the founder is no longer there," said Shieny Aprilia through a webinar entitled " How to Grow Your Startup into a Sustainable Business," Friday (9/4/2021).
Agate is a successful video games development company based in Bandung. Shieny mentioned that Agate was founded because of the passion of its founder to play games. She said that, in the first 3 years, Agate experienced brutal facts due to no one or company was buying the games which were created. "From our games project, no one wanted to buy," she said.
Recovering from many other failures, Agate kept surviving by collaborating with other companies. From this, Agate started to gain revenue.
She continued, the games created by Agate began to attracted customers and were able to be monetized and established in 2009. Agate's first successful game was created in 2012. 
"After four years of operation, some of our games have been successful and liked by customers so that they can be monetized. In the next four years, we have started a partnership and obtained capital investment," Shieny said.
To be a sustainable business, Shieny revealed the importance of company culture. When building the company, we are very aware of the culture. This is because we exist in a creative industry where people and culture are very important.
Besides, as a startup, Shieny emphasized the importance of persistence."For a startup, we play to win not merely play to play," she said.
Until 2019, Agate has launched more than 250 games. These games are not sold only in the Indonesian market but also have penetrated the world market. Besides, the game titled Valthirian Arc won second place in the "Best New Game Steam" (PC) category in the UK less than 24 hours after its release.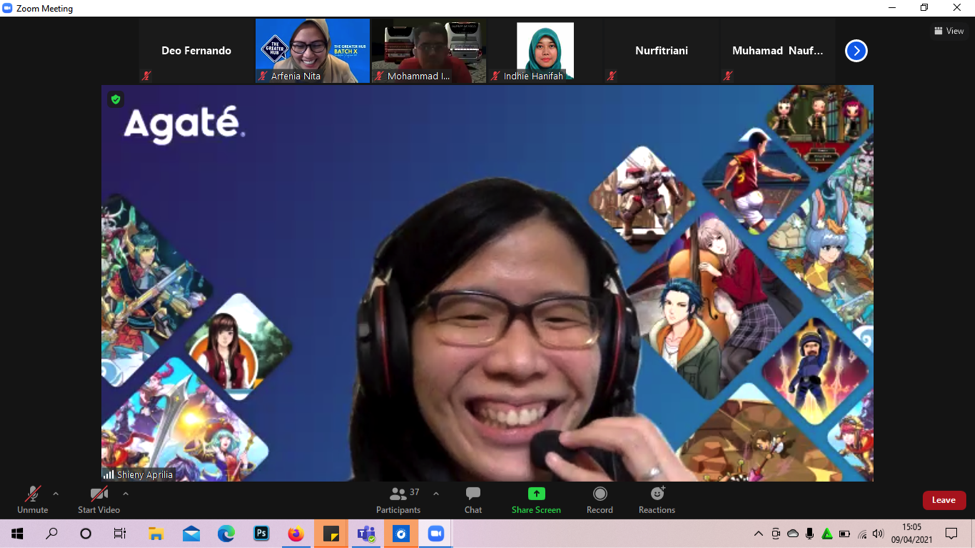 Written by Student Reporter (Deo Fernando, Entrepreneurship 2021)