Business is a combination of professionalism and power. Eventually, great business is a moment where purchasing power meets customer's expectations. 
It was mentioned by the CEO of Orchid Forest Cikole, Maulana Akbar in a guest lecture session, Leadership and Management Practice class in Management study program. During that lecture, Maulana Akbar talked about his personal experience when establishing Orchid Forest Cikole and advised students who want to establish a business. 
"When establishing a business we should start from customers, not from the product," Maulana said on Tuesday (27/4/2021). He emphasized that founders must identify the customer's needs, after that, they can determine the product and create a timeline to meet those customer's needs. 
In terms of establishing a business, Maulana firmly said that the founders should have a measurement of their business. " You should have a measurement. So, you guys can have the commitment that can increase your performance," said Maulana.
Furthermore, in his lecture, Maulana mentioned phases in establishing a business in the tourism industry, from the study case of Orchid Forest Cikole. There are three critical phases that entrepreneurs need to follow when establishing a business. They are namely, customer and branding (fundamental phase), selling point (construction phase), and development phase.
In the customer and branding phase, entrepreneurs need to determine a product or service based on the market segmentation from the geographic, demographic, socioeconomic, psychographic, and behavioral aspects of our customers. Maulana gave an example of Orchid Forest Cikole customer segmentation which is medium-high with an age demographic between 18-35 and dominated by female visitors.
In the next phase, entrepreneurs have to determine scenarios such as quality, cost and time, and conducting a risk assessment. Lastly, the development phase that has the objective to develop and manage the product. Maulana said that product development is done by strengthening the marketing strategy and product management is carried out by reinforcing the functional and operational strategies. 
Agile leadership 
Agile leadership is important in establishing a business. "Leadership must be agile. It is very crucial when establishing a business. Agile means that you can catch information quickly to determine whether it is a threat or an opportunity," said Maulana. 
He continued, four challenges will generate agility namely, interdependency, fluidity, speed, and validity. Therefore, personal agility will affect organizational agility which eventually leads to contribution to business agility as a whole.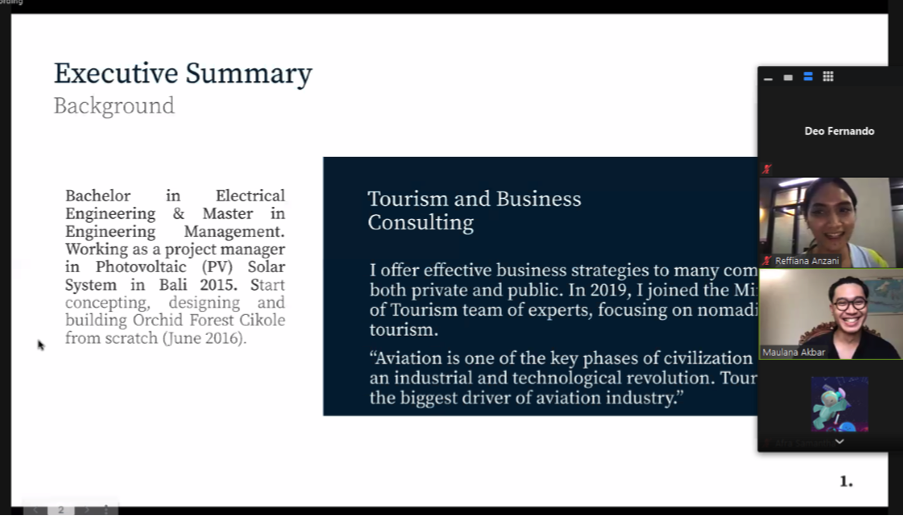 Written by Student Reporter (Deo Fernando, Entrepreneurship 2021)