Kuncie and SBM ITB held a graduation ceremony for 112 graduates of the Mini MBA program at the ITB Campus, Bandung (14/1). The graduates are Mini MBA batch 1-3 participants who have completed a 13-week study program at the end of 2022.
Participants from various companies across industries attended batch 1-3 Mini MBA program, including telecommunications, energy, consulting, banking, processed industry, media, technology & infrastructure start-ups. For 13 weeks, the participants have received a series of materials: high-performance leadership, digital transformation, corporate entrepreneurship & innovation, strategic management, quality management, marketing management & customer focus, data analytics, and financial management. These materials are delivered by experienced teachers and practitioners who are also teachers at SBM ITB.
In addition, Mini MBA participants also applied several learning methods, such as self-guided learning, direct online learning meetings, working on case studies, and finally, being involved in an action learning project as the final project done in groups. By participating in various series of study activities and final assignments, participants are expected to have stronger leadership and business skills.
"At the end of the study period for the Batch 1-3 Mini MBA program, we proved that through the right curriculum and learning methods, professionals can overcome challenges to continue their education to a higher level despite their busy schedules. Congratulations to the Mini MBA participants who have graduated. We hope that the knowledge learned in this program will be useful for improving performance, career and company growth," said Mario Nicolas, CEO of Kuncie.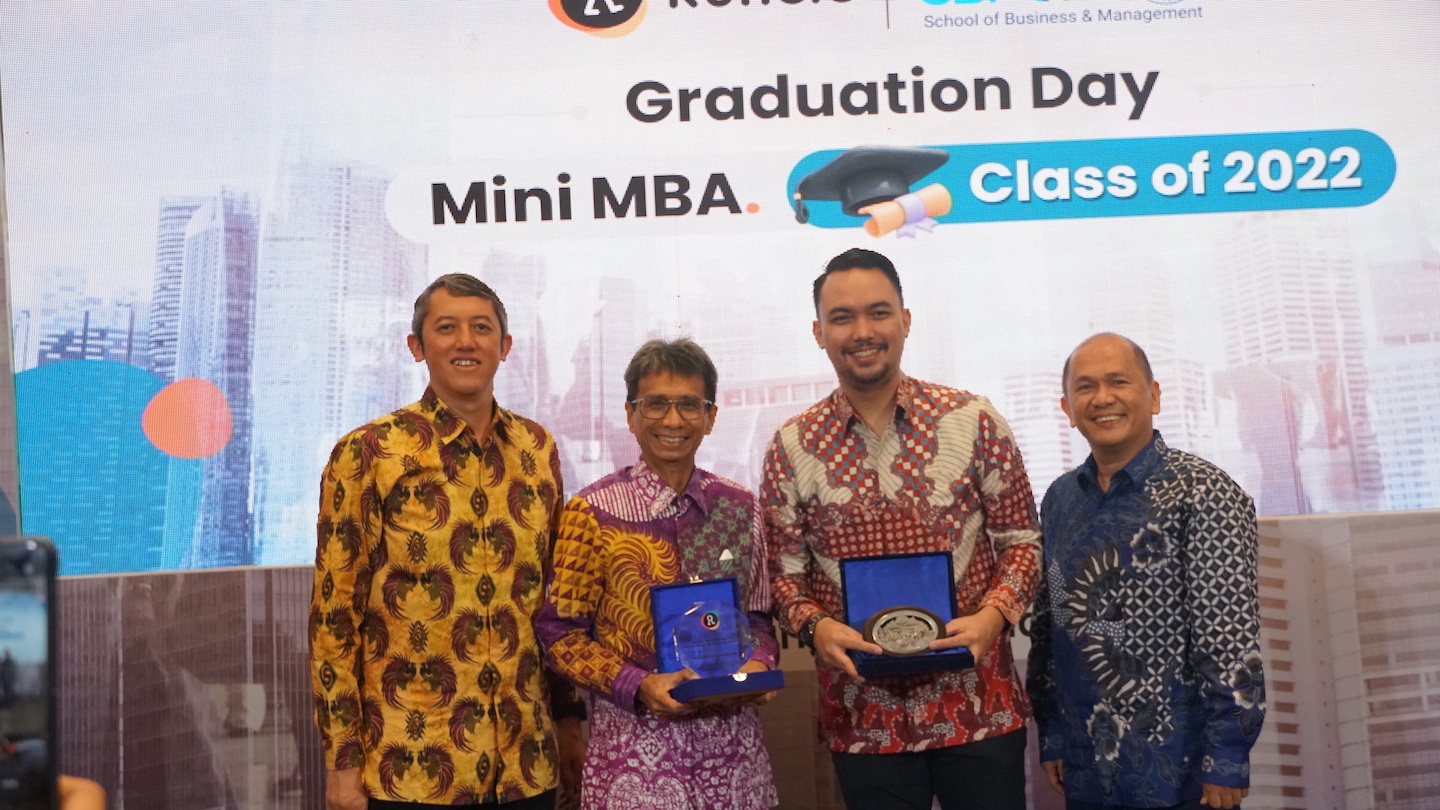 SBM ITB Director of Executive Education Donald C. Lantu, PhD, explained SBM's background in organizing the Mini MBA program in collaboration with Kuncie was to provide a platform for business people in the country who want to continue learning and developing learning methods that effective and interactive. Since the program was launched, SBM has seen high enthusiasm among Mini MBA participants. "Today, at the Graduation event, we feel proud to see the success of the participants who have provided optimal learning process results. Congratulations to all Mini MBA Kuncie x SBM ITB participants on their graduation. Congratulations on working by implementing the knowledge and insights received during the Mini program MBA and never stopping learning," said Donald Lantu.
Apart from handing over certificates as a mark of graduation, this event was also filled with other exciting activities, such as a public lecture from a guest lecturer, Melvin Mumpuni, the Founder & CEO of Finansialku.com. In addition, the best student nominations from each batch also received awards for their hard work and achievements as Mini MBA participants. Since it was first launched in July 2022, the Mini MBA program, in collaboration with Kuncie and SBM ITB, has had five batches. Consisting of 4 four regular class batches and one in-house batch attended by nearly 300 students.
"To date, the Mini MBA program is ongoing, and new batches will continue to be opened to meet professional needs in improving their skills in management and business. In addition to the Mini MBA program, Kuncie will continue to present various other interesting and quality learning programs with SBM ITB in the near future," concluded Mario.
Written by Media Relations