Many people consider SBM ITB the ideal school to study business. For some people, SBM ITB is more than just a business school but also the place where they find their purpose. Aria Bayu Pangestu is one of them.
Aria is an SBM ITB lecturer who started his journey as a student in 2007. His life continued at SBM ITB when he started teaching at his alma mater in 2017. During an interview with the SBM ITB Marketing and Communication team in Bandung on Tuesday (28/2), Aria did not hesitate to tell about his journey to be part of the SBM ITB big family. "I think returning to SBM ITB as a teacher is one of my happiest moments," said Aria. "I met many familiar faces. I ended up working with some of my former tutors and lecturers. It feels good to be back and contribute to my alma mater."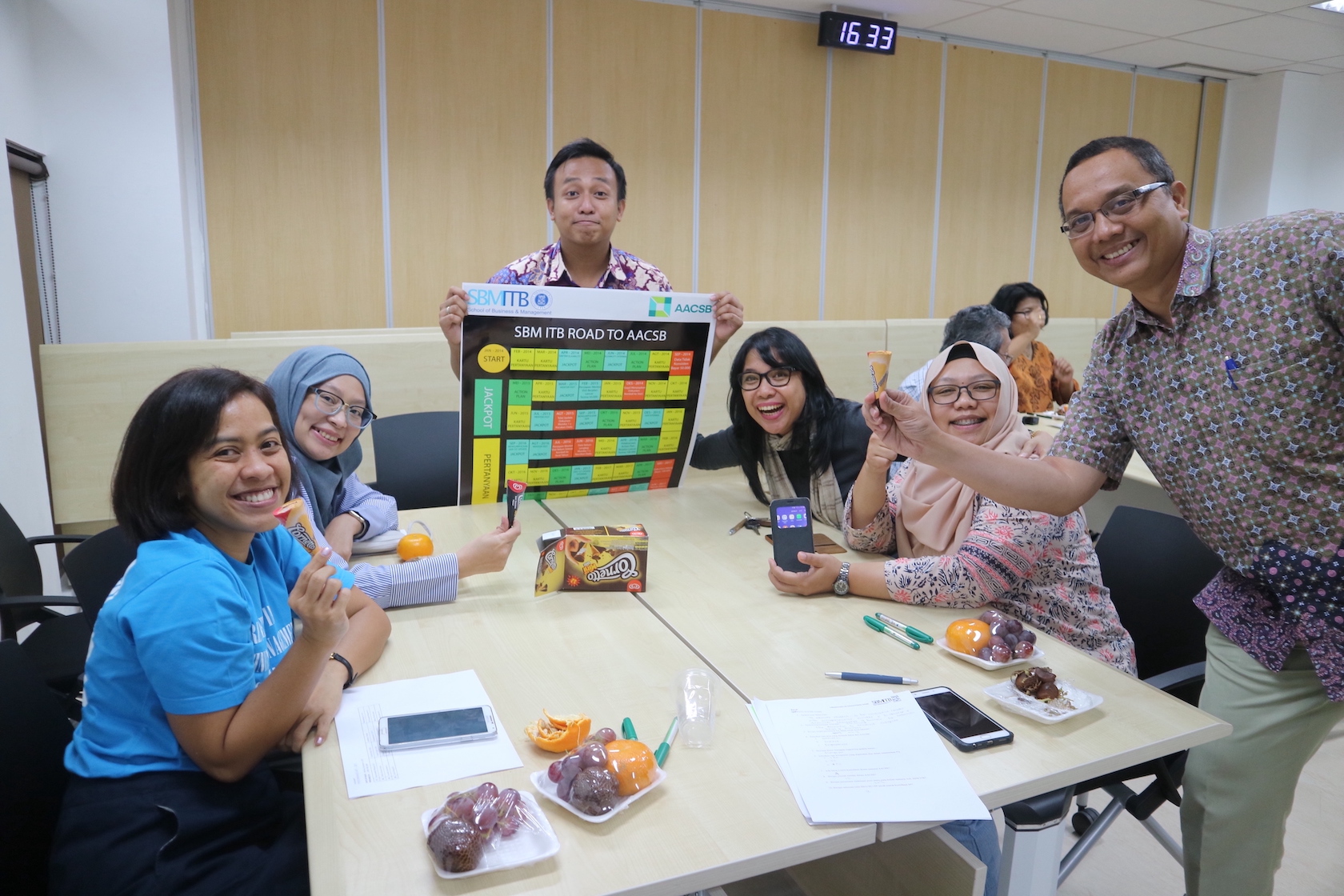 Student Experience Shaped Aria's Teaching Approach
His experience as a student at SBM ITB provides added value for Aria as a lecturer. He can understand both points of view, as a student and lecturer. In addition, Aria also tries to build good relations with his students by asking for their input and listening to their complaints so he can design a program that suits them.
"Generations and culture are changing, so as lecturers, we need to understand the needs and expectations of the current generation," Aria explained. "One thing I always remember when designing a syllabus or activities for the class is to put myself as a student and think about teaching activities or methods. Like what I want for a certain topic."
After graduating from SBM ITB, Aria worked at DBS Bank and PT Prima Indah Perwita. Then, he found his true passion, empowering other people. That passion brought Aria back to SBM ITB. Aria also understood that he needed more dynamic working conditions. Becoming a lecturer is one way to keep his work dynamic.
"I'm not used to doing the same thing over and over again, and being a lecturer is a way of finding dynamics because every year, I can meet new people, new students, and new cases," added Aria. "This might be a bit sentimental, but SBM feels like home for me. I don't see myself working at other universities. Moreover, SBM ITB is very supportive of my development and passion."
Defining the Future of Education While Preserving Culture
Aria felt a slight difference when he was a student and lecturer at SBM ITB. SBM strives to maintain its spirit and learning principles, namely, creating adaptive human beings with creativity and an entrepreneurial mindset. However, this also means that SBM is in its comfort zone.
"I remember when I first joined, SBM was the only school with Performance Arts courses and practical business courses, such as the Integrated Business Experience," said Aria. "Now many business schools have the same program. I think this is the time for SBM to innovate, just like its founders tried to innovate business education in Indonesia in 2003."
To support this vision, Aria will pursue a doctoral degree at the Faculty of Arts and Social Sciences, University of Malaya, focusing on community development. He hopes to contribute to SBM ITB by bringing his new knowledge to develop several subjects.
"Most of the courses I teach are related to the community, such as the Study of Human Science and the Community Project. The basics of this course haven't changed since I was a student, so maybe after getting my Ph.D., I can introduce some new approaches," said Aria.
Finally, Aria encouraged students and lecturers to enjoy their time at SBM ITB because the SBM ITB learning method is all about participation and how we experience things. Aria also reminded the lecturers to pay more attention to the needs of students and continue to assess how aligned these needs are with the program design.
We wish Aria all the best in his doctoral program and look forward to hearing more about his contributions in the future.
Written by Student Reporter (Janitra Nuraryani, Management 2023)