The high domestic consumption shows the rapid development of e-commerce in Indonesia. In 2022, Indonesia's digital economy was estimated to reach USD 77 billion, or 39.7% of ASEAN's digital economy. On December 12, 2022, National Online Shopping Day (Harbolnas), local product transactions reached IDR 10 trillion. Micro, Small, and Medium Enterprises (MSMEs) should take advantage of this increase to market their products and gain a wider reach.
E-commerce is growing rapidly because it can cut the distribution chain, provide easy transactions and flexibility in selling, and provide broad market access for MSMEs. However, business actors must also be aware of the challenges that may occur, including unhealthy trade practices, such as predatory pricing, the risk of misuse of personal data, the sale of counterfeit or non-standard goods, to the rise of fraud.
The Ministry of Trade conveyed this in the event "Ministry of Trade Goes To Campus: Trade Through Electronic Systems" at The Trans Luxury Hotel Bandung on Thursday (16/3). The discussion was held via the collaboration between the Ministry of Trade (Kemendag) and SBM ITB.
Several speakers also enlivened the discussion, such as Shopee Indonesia's Business Development Lead, Randy Febrian, product development practitioner Creativity Movement, Alga Indria, and CCO of Pala Nusantara, Ilham Pinastico. The Ministry of Trade and SBM ITB held this discussion to increase understanding of trading activities through electronic systems as stated in the Minister of Trade Regulation Number 50 of 2020 concerning Provisions for Business Licensing, Advertising, Guidance, and Supervision of Business Actors in Trading Through Electronic Systems (PMSE).
According to the Ministry of Trade, the government's role is needed to clarify the rules of the game, namely Government Regulation No. 80 of 2019 concerning Trade Through Electronic Systems and Minister of Trade Regulation No. 50 of 2020 concerning Provisions for Business Licensing, Advertising, Guidance and Supervision of Business Actors in Trading Through Electronic Systems. This policy creates a healthy, fair, and beneficial e-commerce business climate. The government hopes that business actors follow these regulations for the safety and smooth running of various parties in carrying out PMSE practices.
Randy Febrian said that as one of the e-commerce sites with the most visitors in Indonesia, Shopee Indonesia is highly committed to helping MSMEs level up with educational assistance, namely the "Shopee UMKM Campus" and "Shopee UMKM Campus for Export." The program has existed in 10 cities in Indonesia.
At the campus, the Shopee Indonesia team provides facilities for MSMEs to develop their business by selling online. They help sellers to attract more buyers with various sales programs owned by Shopee, such as free shipping and cashback. Sellers can get higher traffic and expand their businesses overseas. Shopee also facilitates store operations.
Meanwhile, the Product Development Practitioner of Creativity Movement, Alga Indria, discussed design strategies businesses could implement to compete in e-commerce. "In the past, people bought products mostly because of their functions. Now, the function can be the number one reason," said Alga. "People can buy something just because the design is attractive. Design is more emotional."
For buyers, design becomes a promise that leads to trust and seduction, which leads to satisfaction. He believes that in designing a product, it is important to reflect the services or products being sold, match the target user, be easy to identify and implement, and meet the needs.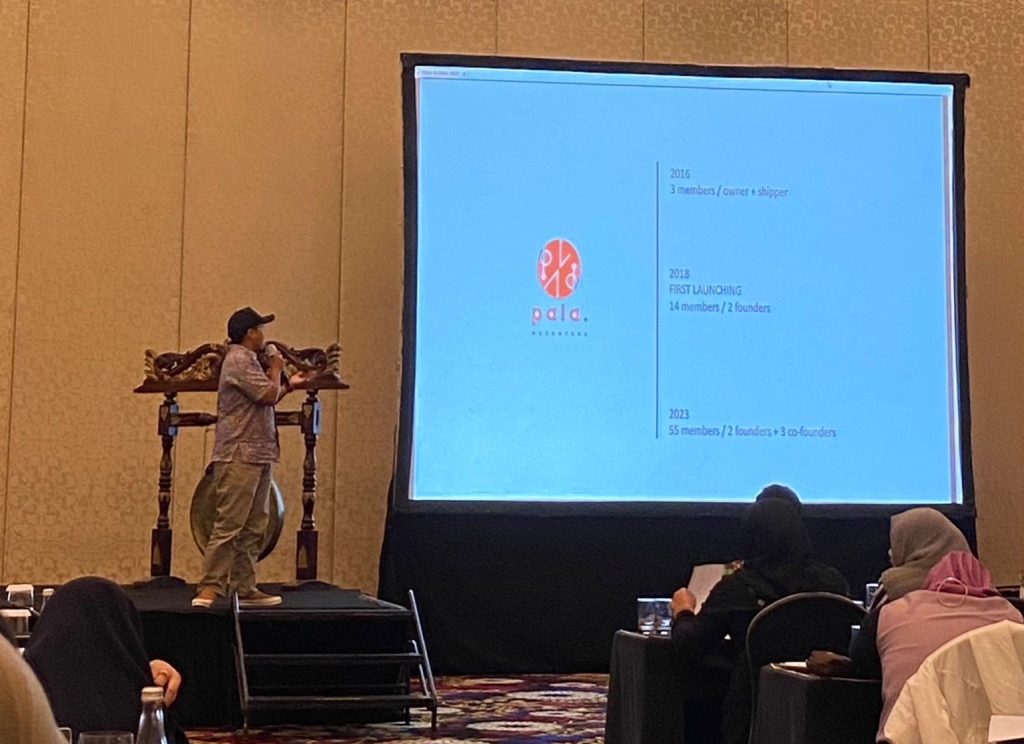 The CCO of Pala Nusantara Ilham Pinistiko added that conveying stories in design has been proven to increase the value of a product. Recounting the journey of Pala Nusantara and its milestones to date, Ilham has shown a lot that Pala Nusantara has succeeded in capturing many diverse markets.
One is by adjusting the design and stories raised on the product to the target market. In this case, collaboration and the ability to understand the market in depth are needed to create a successful product.
Every business actor wants significant growth in sales of their products. This can be achieved by expanding digital sales channels, one of which is utilizing e-commerce.
Written by Student Reporter (Firstya Maulida, Entrepreneurship 2023)