You can't connect the dots by looking up. You can only do that by looking backward. The foreword opened the guest lecture session for the Business Model and Product Innovation course at SBM ITB on Friday (31/3) by Dwi Cahyo Nugroho, the Director of Customer Success at Microsoft Indonesia.
Dwi started his presentation entitled "The Quest to Build Tools, not Jewels" with a brief story about his past and career journey to where he is today. He wants to instill understanding in students that everything that happens in life must be related to one another. This can only be realized if we reflect on our journey.
Dwi said that Microsoft has a company mission statement, namely, "To empower every person and organization on the planet to achieve more." According to him, a mission statement for a company is critical to determine the direction the company will take, which will then be passed down to each objective of business operational activities.
Dwi explained that the mission statement at Microsoft itself is applied in the selection of talents. Microsoft is always looking for and only recruiting candidates who have the willingness to meet impact. In product development, we always try to prioritize inclusivity. So, those who can feel the effect of what Microsoft is doing are not limited.
"Statistics show that there are only 5% of successful innovations. So, to be part of that 5%, it's crucial to fail fast, fail cheap, and quickly come up with new other discoveries," said Dwi.
He added although in initiating a product, we must be the first to have confidence in the product we are making, we also must not be afraid to admit and leave something that we feel has failed and look for something new that is better.
In designing its product innovations, Microsoft always ensures that its products comply with the four values used as guidelines: Make Bold Bets, Optimistic and Inclusive, Grounded in Trust, and Executed at Scale. These values are embedded in every Microsoft product, including its four newest projects currently under development: Project Natick, Xbox Adaptive Controller, InnerEye, and Quantum Computing.
At the end of the session, Dwi closed the presentation by advising students that in choosing a path in life, always do something that "matches your fulfillment." Everyone has a different choice for this. Never feel defeated, late, or even failed with your life choices.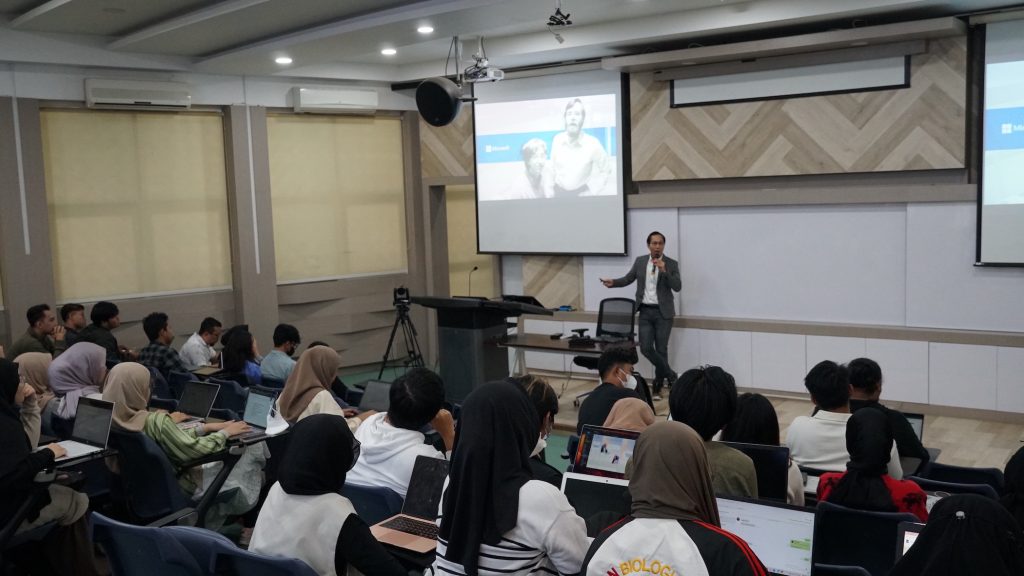 Written by Student Reporter (Firstya Maulida, Entrepreneurship 2023)