Yori Marten, the Vice President of Asset Management at PT PLN Batam, and his wife, Rizka Sari, embarked on an inspiring journey together when they decided to pursue an Executive MBA program. Despite demanding jobs and financial challenges, they committed to this program, aiming to improve their competencies to advance their careers.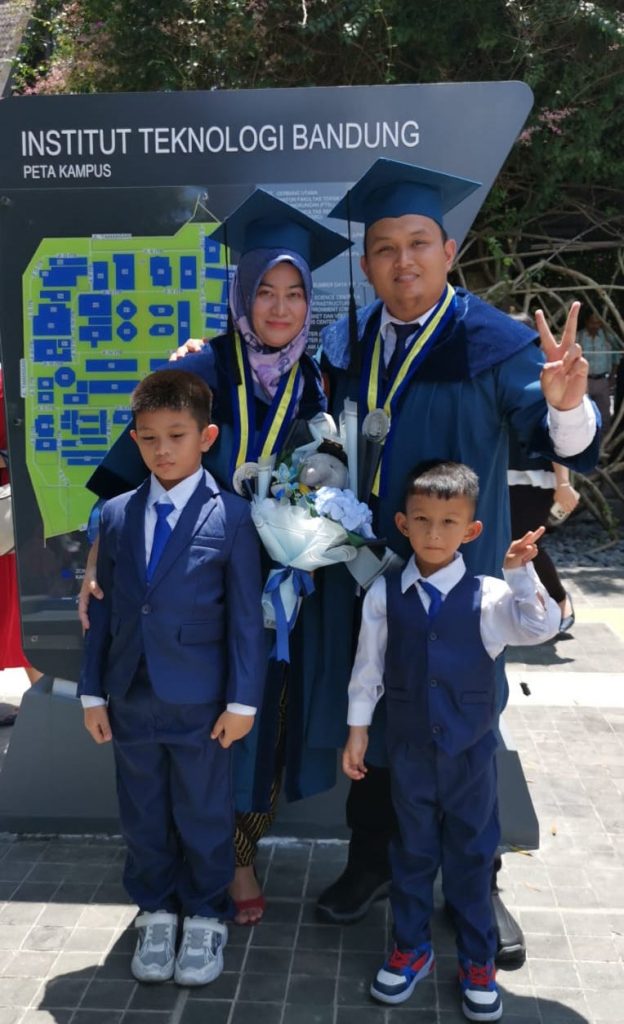 "At first, my husband wanted to pursue an MBA, but he also invited me to take the test, and we decided to try it together. Alhamdulillah, we passed the first test, and it worked well and was completed perfectly. Studying together was not planned, but I am grateful that my husband invited me then," said Rizka during an interview with SBM ITB Marketing Communications Team on Tuesday (11/04/2023).
One of their biggest challenges was managing the financial costs of pursuing the program. Additionally, the workload was intense, particularly during the fasting month when they had to work on operations management case studies until dawn. Despite these challenges, Yori and his wife successfully completed the program.
"Balancing responsibilities towards work, children, and family during our studies was quite challenging. Initially, we only divided our time between work, family, and rest, but now we have to divide it between work, family, rest, studies, and assignments," said Yori. "The cost was also high, so we had to prepare a thorough financial planning and considerations
"We tried to face these challenges by not making it a big problem so that it wouldn't harm our relationship," Rizka added.
One of the significant benefits of the MBA program was that they could expand their networks beyond their daily interactions. They met and interacted with people from various backgrounds and industries.
Throughout the program, Yori and his wife learned to manage their time effectively, juggling work, family, and studying. They supported each other throughout the program, encouraging and reminding each other to stay focused. Moreover, Rizka admitted to finding their decision to do an MBA program together very pleasing.
"We experienced the euphoria of being a student, just like when we were dating during college. Going to class together, doing assignments, and hanging out in cafes were enjoyable. After returning from work, we would spend time together to work on assignments, so we had more me-time," said Rizka. "Moreover, because we studied together, our discussion materials increased, so we had a lot of deeper conversations."
Yori and Rizka's journey is an inspiring example of how couples can support each other in achieving their goals. By committing to proper planning and supporting each other, they succeeded. Additionally, studying together can help avoid conflicts and create a shared experience, leading to stronger bonds. With proper planning and commitment, anything is possible.
Written by Student Reporter (Janitra Nuraryani, Management 2023)