Sustainability is not only about understanding the definition, but also about understanding its profound implications. For Michael Fox, Founding Partner and Chief Rainmaker Corporate Whisperer Ventures, sustainability in doing business is synonymous with accountability, reflecting how the business treats people, customers and the environment.
Fox brought the theme "Sustainability in Business Practices: Experience in International Companies" while giving a guest lecture on Environmental Management Systems (EMS) for second-year students of the International Business class in Bachelor of Management Program SBM ITB at the SBM ITB Auditorium, Bandung, on Thursday ( 20/7).
Fox encourages business people to make accurate decisions, not relying on arbitrary measures. This is useful for avoiding greenwashing, a practice in which companies dishonestly claim to be environmentally sound.
Throughout the session, Michael Fox engages students with unique teaching methods by telling stories about the real experiences of companies. By presenting real cases, he wants to introduce a critical mindset in the minds of students, encouraging them to embrace sustainability and accountability
as integral components of successful business practice.
Fox also praised Indonesia's potential in the field of sustainability and encouraged students to take their unique position. He commented Indonesia has great potential because its nature has not been too damaged.
"You have to learn from other countries. You're like a whiteboard; you can show the world how things should be done," Fox said.
Fox emphasizes the importance of integrating sustainability into business education. When asked about the importance of students studying sustainability, he replied with confidence in the long game, these lessons will take root and become values in future entrepreneurs so that they will have the right attitude to do business responsibly.
The students were given a deep awareness that sustainability is not just a trending issue but rather a fundamental business attitude. It goes beyond profit margins and reflects the core values of treating people, customers and the environment ethically and responsibly.
The guest lecture from Michael Fox is a valuable addition to the curriculum of the International Business Program, in line with SBM ITB's commitment to providing a comprehensive and forward-looking education for students. By presenting skilled professionals like Mr. Fox to share his knowledge and experience, ITB continues strengthening its position as the "MIT" of Indonesia, cultivating a culture of excellence and innovation in business education.
These exciting lectures have motivated students to integrate sustainable practices into their future endeavours, ensuring they become responsible and influential leaders who can drive positive change in the global business landscape. When students leave this invaluable experience, they take with them a knowledge of sustainability and a determination to make a difference in the business world, guided by a philosophy shared by Michael Fox: "Not why. But why not?"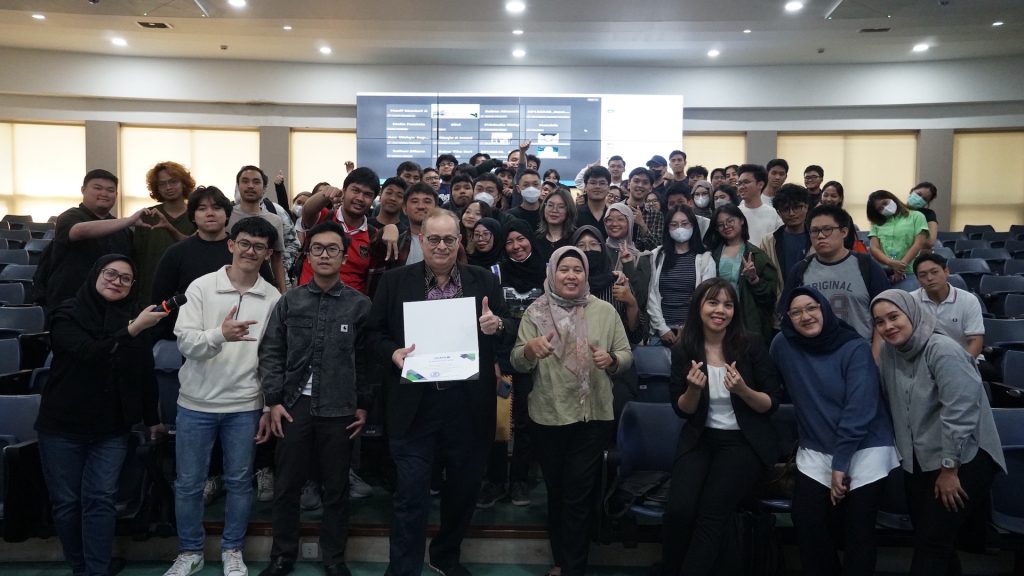 Written by Student Reporter (Qanita Aisya Muhali, International Business 2024)