Students of the Management Study program class of 2025 at the SBM ITB had a public lecture from the Cladtek Group. The public lecture in the Environmental Management System course took place on Friday (21/7) at the Nemangkawi Auditorium Labtek XIX Freeport SBM ITB. Iban S. Safwan, from SVP People & Culture Cladtek Group, being the guest lecturer.
In the public lecture, Iban S Safwan discussed the benefits of ESG (Environmental, Social, and Governance) for business. ESG can attract new customers, investors, and lenders because companies focusing on sustainable practices generate traction and trust.
ESG practices also help reduce risk and build resilience in increasingly complex environmental and social changes. Iban explained that companies prioritizing ESG aspects are historically superior and have better financial performance.
"ESG provides many opportunities for companies to grow and develop. Good ESG practices attract new customers, investors, and lenders," added Iban.
Not only increasing business, Iban emphasized how important ESG is in attracting talent and increasing employee loyalty. According to him, employees, who now consist of many young people, are increasingly concerned about corporate social responsibility. They want to work for a company that commits to the environment and society. By adopting strong ESG practices, companies can enhance their brand image and value and sustainably improve financial performance.
"The younger generation is increasingly concerned about corporate social responsibility. They are interested in working for companies committed to the environment and society," said Iban.
In the regulatory context, the government is essential in establishing policies supporting sustainable development goals. Investors also play a major role in encouraging companies to adopt ESG practices, as companies with better ESG performance have higher long-term profit potential.
According to Iban, business people must now pay attention to their environmental impact because global climate change must be anticipated. Concentrations of greenhouse gasses reached their highest level in 2 million years, causing the earth's temperature to increase by about 1.1 degrees Celsius compared to the 19th century. The impact of climate change is severe, ranging from drought (water scarcity) to severe fires, rising sea levels, and other natural disasters.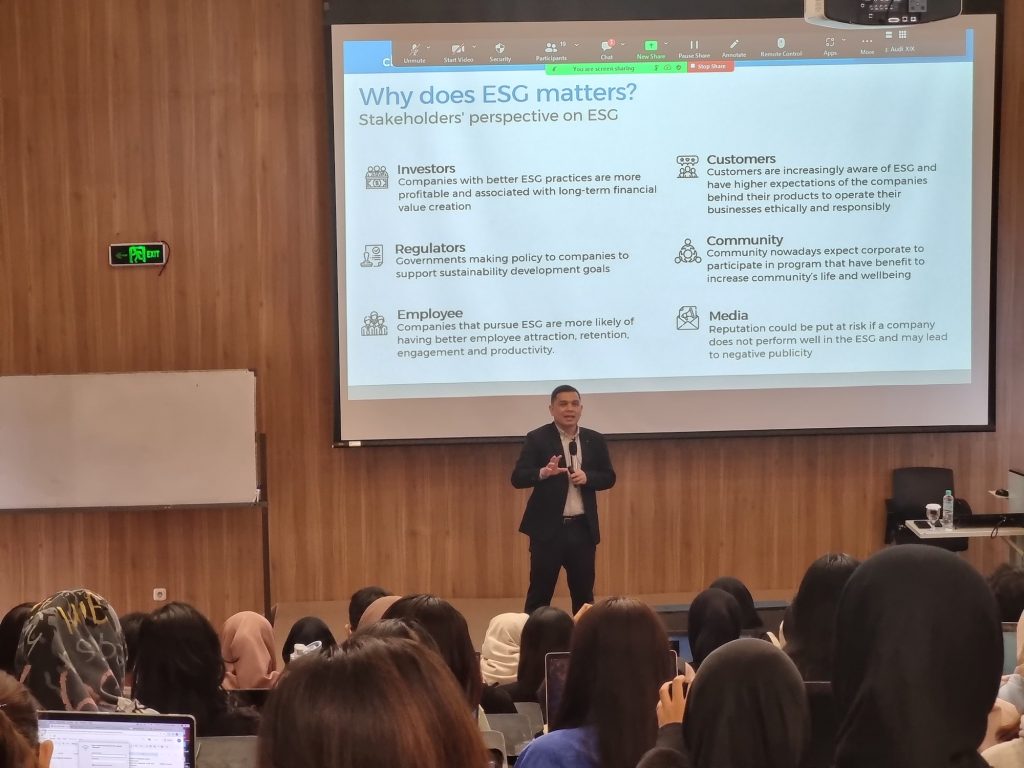 Written by Student Reporter (Bashravie Thamrin, Management 2024)