The Hakteknas event held at Plaza Tenggara Gelora Bung Karno, Jakarta, on August 11-13, 2023, served as an exceptional stage for innovation. The Hakteknas exhibition was organized to bring higher education innovations closer to the public.
One of the standout moments was the presence of "Mengasihi," an innovation by entrepreneurship students from SBM ITB that presented a world-class health solution in the form of powdered breast milk (ASI bubuk). Mengasihi's participation in the event "Innovation by Academic Community Towards Indonesia Emas 2045" reflects the entrepreneurial spirit and determination to create a positive impact in society.
One of the moments that stole attention was the presence of Mengasihi, an innovation from SBM ITB entrepreneurial students who presented world-class health solutions in powdered breast milk. Mengasihi's presence at the event "Innovation by the Academic Community towards a Golden Indonesia 2045" illustrates the entrepreneurial spirit and determination to positively impact society.
Zakaria Khori Hermawan, CEO of Mengasihi, who spoke at the exhibition, views 2045 as a historic milestone in Indonesia's journey. This year is vital as a turning point in the nation's demographics and development.
The younger generation is expected to pioneer formulating innovative solutions to overcome current and future challenges. Zakaria emphasized the need to build problem-solving skills and entrepreneurial spirit among the younger generation. He hopes the innovative and collaborative spirit will lead Indonesia to achieve Gold status in 2045.
Mengasihi's powdered breast milk innovation has great potential to encourage gender equality and productivity in the future. Through practical forms, mothers, both those who work professionally and those who have household responsibilities, can provide quality nutrition to their children. By providing a more flexible alternative to breastfeeding, the Mengasihi team significantly supports the vision of a Golden Indonesia 2045.
Zakaria said he was proud to speak at the forum to discuss with professors and experts from various well-known universities in Indonesia, such as UGM, UI, and ITS. Other innovative products, such as UI's electric buses and the development of special-sized melons by UGM's Biology Professor, have inspired many people about the real potential of innovation.
Zakaria was delighted to be part of the discussion and exchange of ideas among these innovative thinkers. Participants from academic circles felt inspired and optimistic by the presence of various innovative solutions from universities throughout Indonesia. Through these innovations, it is hoped that the challenges faced by society, especially mothers in the Jakarta area, can be better overcome.
Zakaria also shared his hopes for the future regarding the breast milk powder project and its broader role in Indonesian society. He dreams that by 2045, there will be no more babies experiencing stunting problems due to a lack of breast milk nutrition. It is hoped that the success of this powdered breast milk will become a motor for realizing the vision of a Golden Indonesia.
As a next step, the Mengasihi team has plans to set up a laboratory for producing breast milk powder. Hence, broader personal services can be provided to the community, especially mothers who carry out busy routines in the world of work. With this effort, it is hoped that breast milk powder innovation will increasingly have a positive and sustainable impact in supporting the journey toward a Golden Indonesia 2045.
The presence of the Mengasihi team at the Hakteknas 2023 event has proven that the spirit of innovation and dedication to the nation's progress is the key to achieving the big goal of a Golden Indonesia 2045. Through hard work, collaboration, and an entrepreneurial mindset, Indonesia's young generation has demonstrated its potential to become the main force driving behind national transformation and advancement.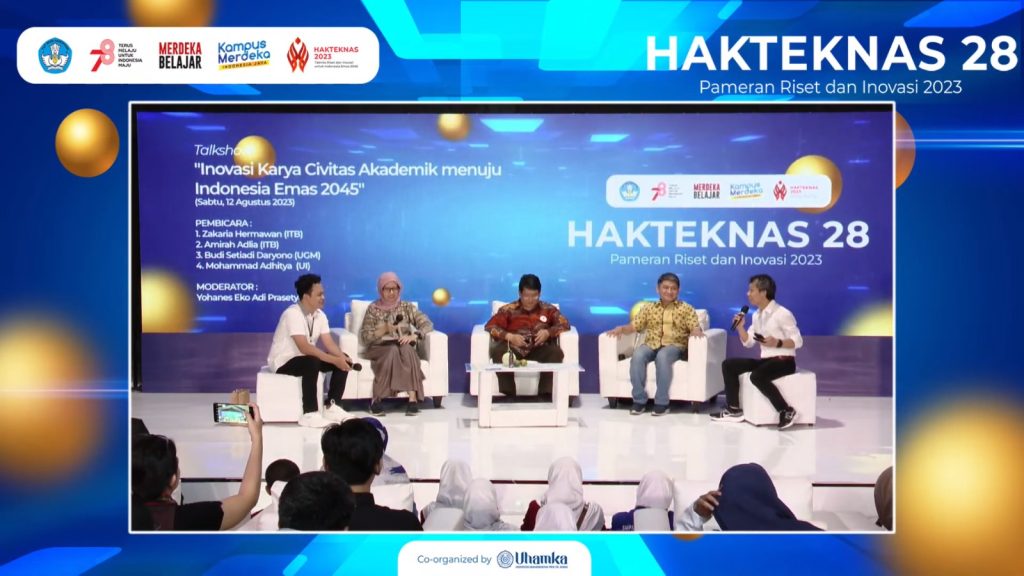 Written by Student Reporter (Fairuuz Fawwas Alfarizi T, Entrepreneurship 2024)