While many undergraduate graduates embark on career journeys or start businesses, some aspire to pursue postgraduate education. To address this aspiration, the Institut Teknologi Bandung Management Student Family (KMM ITB) organized a seminar titled "Understanding and Mastering the Pathways to Master's Education" on Wednesday, September 20th. The guest speakers for this event were Raisa Almeyda and Aditya Khemal Rachmadi, two students currently pursuing postgraduate studies abroad.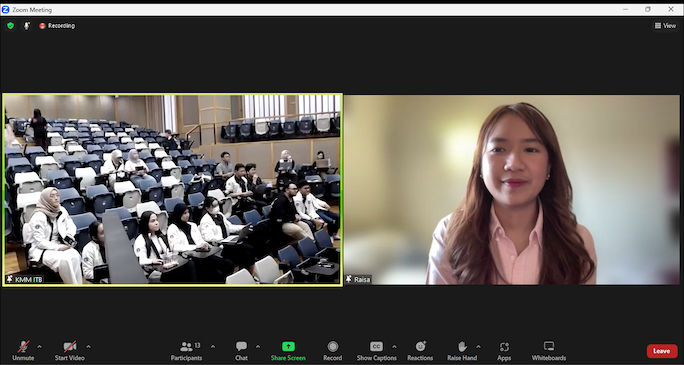 Raisa, an alumna of SBM ITB and an LPDP awardee studying for her master's degree at the University of Manchester shared her insights during the session. She began by highlighting the differences between the MBA and MSc programs.
The MBA program encompasses general management topics, including finance, marketing, strategy, operations, and leadership. It provides a comprehensive understanding of various aspects of business and aids students in becoming effective managers and leaders. The MBA program also imparts crucial values to its students, such as practical business knowledge, enhanced management skills (including team and project management, strategic thinking, and self-development), and valuable networking opportunities.
On the other hand, an MSc program offers specialized knowledge. It is research-oriented and suitable for those interested in specific management areas or academic careers. Key features of the MSc program include specialized skills (e.g., MSc in Finance, MSc in Marketing, MSc in HR, etc.), research skills, an academic focus, shorter duration, and fewer work experience requirements.
Raisa emphasized the importance of identifying the program that aligns with one's needs. To make an informed choice, prospective students should understand their interests and career goals, evaluate past experiences, seek guidance from mentors, and thoroughly research suitable programs and universities.
Before embarking on this educational journey, Raisa shared three primary prerequisites: strong analytical skills, solid business acumen, and practical communication skills. These skills are essential since the MBA program is known for its high difficulty level, requiring students to handle tasks with real-world applications based on practical experience and with fast-paced performance expectations.
Raisa acknowledged that being an MBA student in Manchester presented numerous challenges. To overcome these challenges, he recommended four essential strategies: efficient time management, continuous learning, prioritizing health and self-care, and building a robust support system.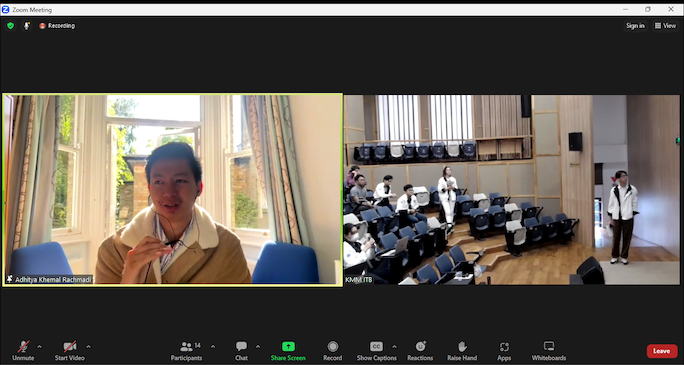 Aditya, an MBA student at the Cambridge Judge Business School with an LPDP scholarship, provided valuable insights into the application process for the LPDP scholarship. He covered various aspects, including essays or motivation letters, letters of recommendation, CVs or resumes, language proficiency tests (TOEFL/IELTS), standardized tests like GMAT, and work experience.
When crafting compelling essays, Aditya stressed the importance of focusing on the specific questions posed in the application. Prospective candidates should list their interests, passions, past experiences, challenges, successes, inspirations, and more. Building a coherent storyline that connects these elements is critical to creating a compelling essay.
Aditya also shared valuable tips for preparing for English language proficiency tests. He recommended identifying personal weaknesses and concentrating on those areas. Achieving a score of 70, for instance, might be sufficient even if the maximum score is 100. To enhance English language skills, candidates can access practice questions for English exams through courses, specific question sets for certain exam sections (e.g., writing), free websites, and online resources.
To further strengthen English language proficiency, Aditya suggested watching Netflix series or English podcasts, reading articles from sources like HBR and The New York Times, practicing with friends, speaking in front of a mirror, and writing on various topics and expressing opinions.
Written by Student Reporter (Luthfaliya Zahira, Management 2025)