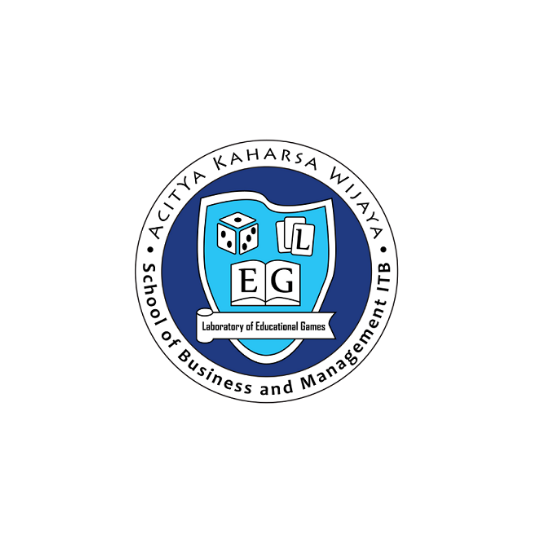 Our education games utilize knowledge of human cognition, operation and corporate performance, business risk and finance, decision making, negotiation, business strategy, entrepreneurship and related topics in business and management. Our missions are:
To develop and introduce the richness of games as alternative media of business and management education
To promote profound research on game and gamification as a foundation of game development
To exert the produced educational games in executive education and community services to boost creative based economy
As part of SBM ITB, LEG provides a space for faculties and students to innovate learning process, collaborate in research, and nurture community development in a fun way. With the motto of "Acitya Kaharsa Wijaya" (knowledge, fun, excellence), we innovate the way of learning, enrich people's lives with creative solutions, and captivate esteemed students' and partners' lives with joy and jubilance. 
Game-based learning is training that uses game elements to teach a specific skill or achieve a specific learning outcome. It takes your core content and objectives and makes it fun.
Gamification is the application of game mechanics in a non-game context to promote desired behavior and drive learning outcomes. Such as think points, badges, leader boards and incentives.
Development of board, card, and digital education games
Integration of business and management training with educational games
Gamification of a business process
Joint research and publication in the field of gamification
Contributing to creative economy development through community services
Head of Laboratory
Dr. Yuanita Handayati, M.S.M.
Secretary
Layung Anindya, MSM
Imas Siti Masitoh, S.E
Treasury
Aswin Rahadi, Ph.D
External and Brand Development
Erlangga Mahardika, MSM
Gamification Research
Shimaditya Nuraeni, S.Psi., MSM
Creative Game Development
Nur Arief Rahmatsyah, M.HRMHons
Aria Bayu Pangestu, M.HRM
Beres Hasudungan Lumbangaol, S.M
Arif Ramadhan, S.T
Derry Chandra Rizky, S.Kom
Experts Team
Achmad Ghazali, Ph.D
Bayuningrat H, MBA
Donald Crestofel Lantu, Ph.D
Dr. Eng. Nur Budi Mulyono
Noorhan Firdaus Pambudi, MSM
Yorga Permana, M.Sc
Yudo Anggoro, Ph.D
Kurnia Fajar Afgani, S.AB., M.B.A
Ilma Aulia Zaim, Ph.D
Contact Us
SBM ITB Laboratory of Educational Games
Labtek XIV, 3rd floor
Jl. Ganesha No.10, Bandung, 40132, Indonesia
Phone: (+622) 2531923
Instagram: @legsbmitb