Image source: www.rumahamal.org
University plays an important role in creating technology. It is because within the university there is expertise mainly in science and technology.
One of the technologies successfully developed by lecturers and researchers of ITB in this pandemic situation is a ventilator named Vent-I. This apparatus is created by researchers from ITB through collaboration with Rumah Amal Salman and the Faculty of Medicine, Padjadjaran University. Vent-I functions to assist breathing for those who have difficulty breathing, especially those affected by Covid-19. Even though the development process is relatively short, this tool has passed the test and was successfully commercialized.
"In normal situations, this tool is usually developed over 1-2 years. However, we are looking for how this tool can be developed in only 1-2 months," said Sandro within a guest lecture session entitled " Lesson Learned from Rapid Development of CPAP Ventilator Vent-I during COVID 19 Pandemic in Indonesia," Tuesday (13/4/2021).
Dr. Sandro Mihradi, who is a member of the Vent-I development team explained more about Vent-I in Technology Commercialization class, Bachelor of Entrepreneurship. " The initiative of Vent-I coming from Dr. Syarif Hidayat in which he accepted the challenges to create a ventilator in pandemic COVID 19," he said. 
Sandro continued, after the initiative from Dr. Syarif Hidayat, then invited all of the staff in ITB, Rumah Amal Salman, alumni and students of ITB, and also doctors from Padjadjaran University to develop Vent-I. 
"The crucial thing for us to create a product is commitment. Our motivation is not for business but our sincere intention to contribute," said Sandro who is a lecturer in the Faculty of Mechanical and Aerospace Engineering
He revealed that Vent-I went through a long road in the development process. Vent-I should go through a test of usability, durability, and safety at the Health Facility Safety Center (BPFK). After that, Vent-I continued to the next trial process in the hospital and obtained the CPAKB license. Lastly, after passing all of the steps, Vent-I received its distribution permission. 
Sandro said, at the end of July 2020, there were already 1000 Vent-Is distributed in 277 hospitals throughout Indonesia. Moreover, Vent-I collaborates with PT PHC to commercialize the product.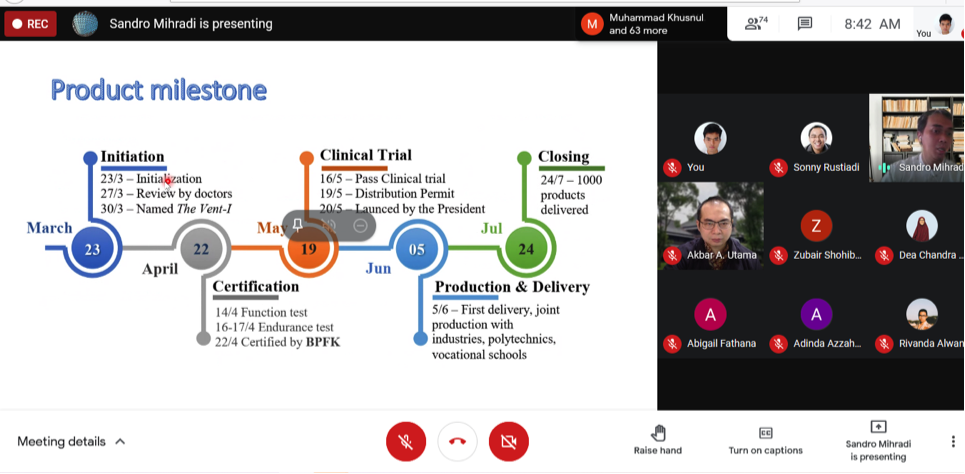 Written by Student Reporter (Deo Fernando, Entrepreneurship 2021)