Image source: blog.amartha.com
There are around 25 million womenpreneurs who have not been served with capital loans. Low income and significantly low access to credits still constitute a major problem across Indonesia. For this reason, Amartha undertakes a mission to connect those womenpreneurs with investors online. 
Amartha is a peer-to-peer fintech company that can help micropreneurs obtain access to credits. Andi Taufan Garuda Putra, Founder of Amartha, shared his journey in establishing Amartha through a guest lecture session in the business development class, bachelor of entrepreneurship. "Economically, Amartha is very helpful (to womenpreneurs), especially in villages," said Andi Taufan on Wednesday (14/04/2021).
Andi Taufan revealed that the journey of Amartha started 11 years ago when he visited several villages and questioned people there about their problems regarding finance and credit. "Amartha started in 2010. At that time, I was traveling around the villages asking womenpreneurs how much capital they needed and for what purpose," he said. 
Through his observation, he found that many people in the villages still had low income and it was difficult for them to get access to credits to finance their business. He then established Amartha which aims to help low-income people mainly in villages to get access to funding. Therefore, they can develop their businesses and send their children to school. 
However, Andi said that in the first 5 years of Amartha, he found difficulties due to just a few people invested their money in Amartha. As a result, there was an unbalance between borrowers and lenders. Andi emphasized that these first 5 years were a very challenging time for Amartha.
"The challenges at the beginning of Amartha was that a lot of funding was needed but only very few invested their money in Amartha," said Andi who is also an alumnus of SBM ITB.
In 2015, Andi then continued his study at Harvard University while doing his business (Amartha). In 2016, Amartha successfully obtained seed funding always of USD 1 Million. Amartha then experiences growth year by year. In 2021, Amartha becomes a successful company with more than 645.000 borrowers and has distributed more than IDR 3.4 T to nearly 15.000 villages across Indonesia.
From this journey, Andi mentioned several lessons he learned in establishing Amartha. First, we should find the right co-founder and investor who has a related mission to the company. Second, we should place trust in our business even though many people there underestimate our business. Lastly, as entrepreneurs, we should always prepare ourselves comprehensively.
Through his lecture, Andi Taufan also firmly understood the importance of a business hand in hand with its social impact. So, besides creating a business, we can also help others. "My passion is how to make a business that can also create social impact," Said Andi Taufan, who is also a former millennial staff of President Joko Widodo.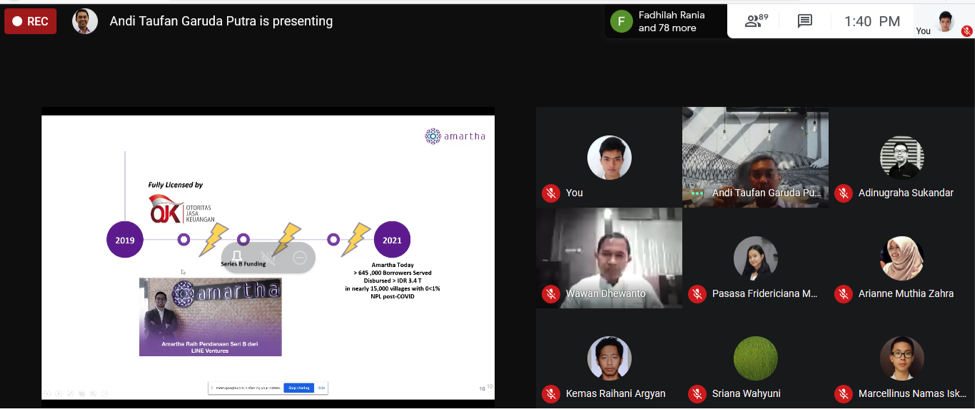 Written by Student Reporter (Deo Fernando, Entrepreneurship 2021)