By utilizing big data analytics, startups' founders can obtain information from such huge data. This information will result in a value that brings impact for the startups. 
It was mentioned by Dr. Aqsath Rasyid Naradhipa, CEO of NoLimit Indonesia, in a webinar held by the business incubator of SBM ITB, The Greater Hub, entitled " Big data analytics for a startup." 
Big data analytics is a complex process to gain information. Nowadays, big data analytics is very crucial mainly in the business in which it can bring added-value to the business. 
"Big data has 5 characteristics, namely, volume, velocity, variety, veracity, and value. By using big data analytics, we can cultivate the characteristics to be values for our business," said Aqsath on Friday (16/4/2021). 
Aqsath continued, big data analytics can be used to see what happened in the past and why it happened. Besides, big data analytics can also be used to see what is currently happening and to predict what will happen in the future.
To perform data analysis, Aqsath emphasized that the first step that we have to do is to know in advance the business to be analyzed. "We should understand the business to be analyzed. Whether in the field of e-commerce, FnB, etc," he said. Furthermore, after understanding the business, the next step is understanding the data, preparing for modeling, and doing the evaluation. 
Data analytics for social media
One of the platforms to get data is social media. "Nowadays, social media has become a trend. Previously, around 2010, only brands used social media. But, currently, the government, non-government organizations, and the agency also have been readily using social media," commented Aqsath. 
Aqsath revealed that one of the projects they are currently  working on at NoLimit Indonesia how to convert conversations into sentiments (positive, negative, neutral). By analyzing the data from social media which consist of varieties of conversations, Aqsath together with his friend at NoLimit Indonesia can classify whether the conversations occurring have positive, negative, or neutral sentiments. 
Furthermore, through social media, we can see the preference of people or their issues toward a product at a certain time. This information will provide a major impact on businesses, such as we can launch a product at the exact time preferable to our target market.
Through his presentation, Aqsath also presented the case study of social media analysis in a tweet on Twitter. He explained, from the big data analytics they have performed, they found out the information about confusion tweets on Twitter. "The number of confusion tweets on Twitter for around 3 months exceeds the population of Jakarta. Most of them are women. The main cause of this confusion is love problems," he explained. 
Through NoLimit Indonesia, Aqsath tries to assist startups' founders to find value within data. So that startups' founders can formulate better plannings and decisions.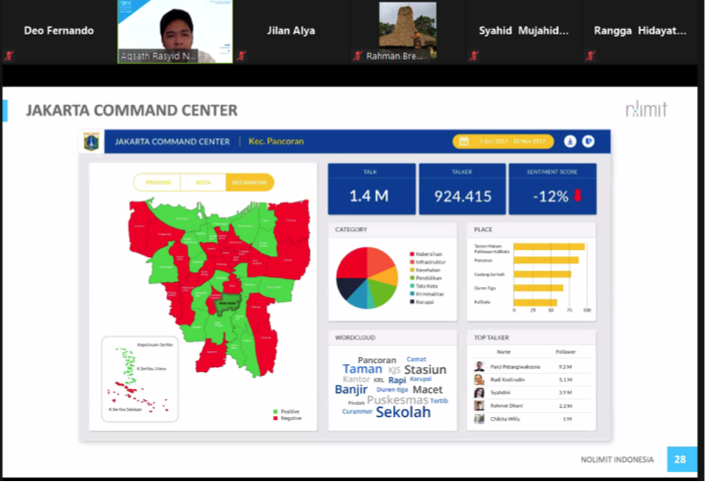 Written by Student Reporter (Deo Fernando, Entrepreneurship 2021)