As a generator of strong entrepreneurs, business incubation is expected to add value to the world of entrepreneurship education, particularly as a safety net for startups starting their businesses. Dr. Dina Dellyana, the Director of The Greater Hub Business Incubator SBM ITB (TGH SBM ITB), raised this point at the Southeast Asia Edition of the Times Higher Education event in Singapore in collaboration with the National University of Singapore. (7/12/22 – 8/12/22)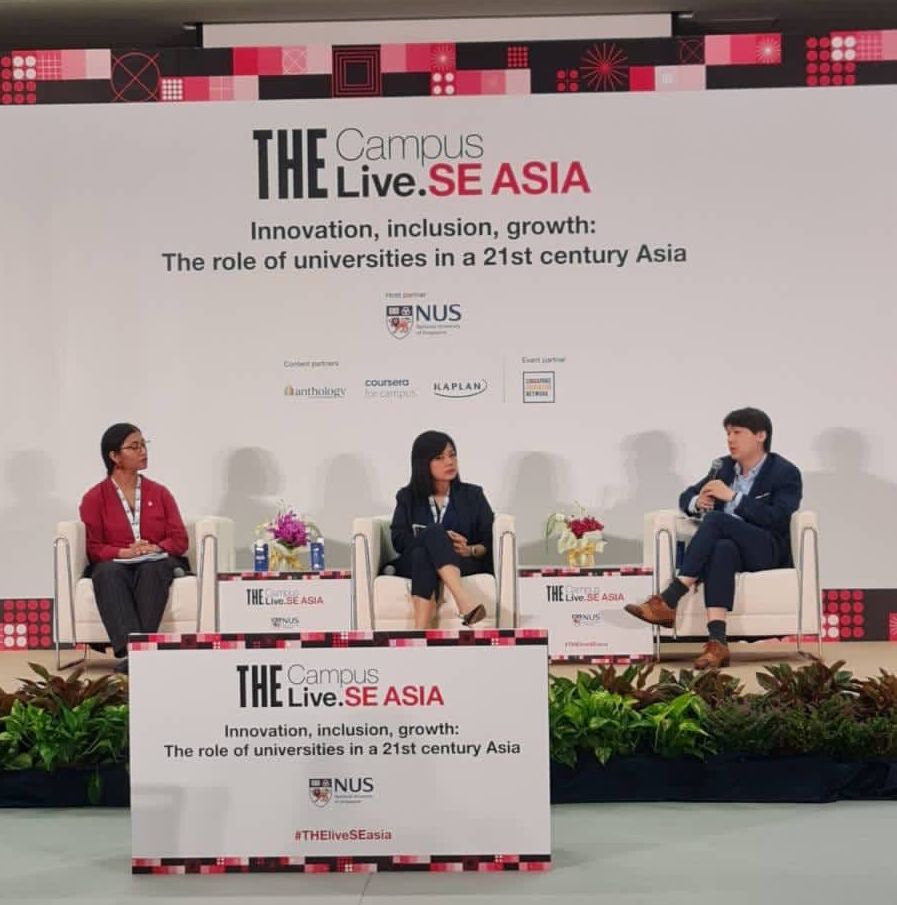 Business incubation at TGH SBM ITB has a grand adaptive design to build an initial business that can balance business development in facing uncertainty. Business incubation currently needs to focus more on establishing startups using technology, ensuring a path to profitability and a sustainable business model, as well as social and environmental impacts.
In facing the pandemic and post-pandemic situations, business incubation must also adapt optimally. Starting with the incubation stage, curriculum, monitoring patterns, and activity formats ranging from offline, online, and hybrid to the metaverse, as well as alumni, community, and venture capital involvement in the incubation stage.
According to Dina, the current situation has improved remote work management while forcing startups to think harder about potential business models. "Startups can manage their teams remotely. Many people are tested and becoming more resilient. They improve in terms of effectiveness, efficiency, and discipline. Furthermore, each individual can perform multiple tasks while maintaining a better balance between work and personal life. In addition, they become more critical in considering their business model," said the Bandung City Creative Committee Expert Council, Bandung City Culture & Tourism Office.
The Startup Business Bubble Burst Phenomenon
Turbulence, uncertainty, novelty, and ambiguity are the challenges business founders face today. The lack of experience in managing technology businesses can be a phenomenon, particularly in Asia. We have seen the bubble burst phenomenon in many previous startups.
"Hopefully, in the future, we will be able to strengthen the distinguishing characteristics of entrepreneurs, such as leadership, optimism, self-confidence, passion, discipline, proactivity, open-mindedness, determination, tenacity, competitiveness, and other positive characteristics, aside from the potential of the business itself," Dina said.
Dina's solution is to collaborate with domestic and international experts through international cooperation and co-incubation programs. In addition to co-designing curriculum with venture capital to ensure startups are approaching the criteria desired by venture capital. Other forms of collaboration include knowledge transfer, learning, adoption, adaptation, and continuous learning with various parties.
Startup Business Potential
At the end of the meeting, Dina stated that startups in Southeast Asia has a lot of potential. Dina cited inefficient industries, such as Islamic finance, halal technology, health management, processing of diverse plantation and agricultural products, including supply chain management, implementation of efficient and low-cost logistics, MSME support systems, and financial literacy.
With these existing phenomena, it is hoped that we can raise awareness and strengthen startups to face all possible outcomes.
Written by Student Reporter (Erwin Josua, EMBA 2021)