Chinese University of Hong Kong (CUHK) Business School offers scholarships and free registration fees for SBM-ITB students. Prof. Waiman Cheung, the Deputy Postgraduate Dean and Professor of the Department of Decision Science and Managerial Economics at CUHK Business School, made the offer in an information session at Amphitheater 2, MBA ITB Building, Bandung on Thursday (16/3).
"CUHK offers scholarships that not only emphasize GMAT/GRE scores but also consider academic achievement, non-academic achievement, and interviews. Everyone who attends this session is exempt from the registration fee," said Prof. Cheung.
According to Prof. Cheung, CUHK has a Master of Science Program for one year. The 1-year CUHK master's program consists of MSc in Management, Marketing, Information Management (Science) and Technology, Finance, Accountant, Business Analytics, Actuarial Science and Insurance Analysis, and Real Estate. In addition, CUHK Business School also offers a Master of Business Administration (MBA), Executive Master of Business Administration (EMBA), and Doctor of Business Administration (DBA). CUHK is also AACSB and AMBA Accredited.
CUHK Business School is the best in Hong Kong based on Reuters Asia Pacific's Most Innovative Universities 2016-2019, ranked 5th in Asia based on US News & World Report Best Global Universities Rankings 2023, ranked 7th in Asia based on the Times Higher Education Rankings 2023, and ranked 38th in the world according to the 2023 QS World University Rankings. CUHK also has more than 8,000 students from outside Hong Kong.
According to Prof. Cheung, there are various career opportunities if you continue your studies at the Graduate School at CUHK, located in the Greater Bay Area (GBA). Emerging career opportunities include technology and innovation (53%), trade and logistics (45%), financial services (44%), real estate (32%), and infrastructure (30%).
Furthermore, many specialized professions are in high demand, particularly technology, infrastructure, and professional services. In the technology sector, there is a high demand for tech-savvy talent. In the infrastructure sector, the demand is for the development of smart cities and green living or transportation hubs, and in the field of professional services, the demand is high on digital transformation consulting.
The Greater Bay Area itself is located in South China. GBA consists of Guangdong, Hong Kong, and Macau.
The GBA has two Special Administrative Regions consisting of Hong Kong and Macau. The GBA is a world-class bay area with the largest, most populous land mass, and the Gross Domestic Product (GDP) approaches Tokyo Bay. This is because Hong Kong has a central location easily connected to other islands.
The GBA's GDP is larger than South Korea, Russia, and Brazil. However, per capita GDP, service industry ratios, and the number of fortunes of 500 companies are far from the world-class bay area (San Francisco, Tokyo, New York). This means GBA can develop various industries. With this info session, Prof. Cheung hopes to attract educated talent to Hong Kong, collaborating in emerging industries in these integrative cities.
"Hong Kong is a small place, but it can compete globally because its advantages, including one country with two systems (the rule of law and common law practice), commercial prudence (free trade and low taxes), internationalization (meetings for western countries meet eastern countries and increasing population from Southeast Asia)," said Prof. Cheung.
For more information about CUHK Business School, please visit https://masters.bschool.cuhk.edu.hk.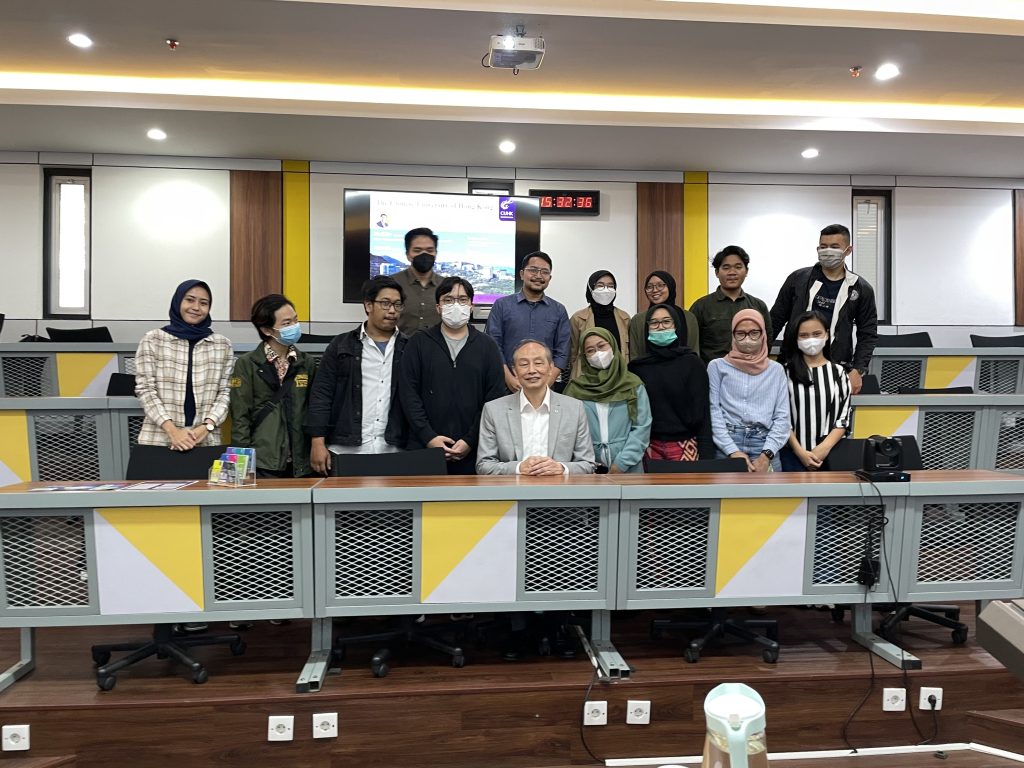 Written by Student Reporter (Talitha Noveasara D, MBA YP 67A)