Being an effective leader requires continuous action and learning. One needs to improve continuously to achieve effective leadership.
This was conveyed by DHL Express Indonesia's Human Resource Program and Performance Manager, Melisa Kurniawati, when speaking at the 20th BV E-Talk on Saturday (1/4). BV E-Talk is a sharing platform on how to become an effective leader, inspire participants to become leaders, and become a networking platform for speakers, audiences, and partners, hosted by Bukit Vista, a Hospitality Management Services Company. SBM ITB is one of Bukit Vista's educational partners.
Besides Melisa, several speakers were also present to discuss their views on leadership. IHG Resort Thailand's HR leader, Saudi Khaneng, argues that a successful leader can handle obstacles and people while making decisions that are in the organization's best interest.
Meanwhile, Iqbal Hariadi, VP of Brand Communication Kitabisa.com, emphasizes the importance of self-awareness and the will to achieve goals as important characteristics of successful leadership. According to Brian Arfi, Director of Product Fasset, an effective leader must have experience and the ability to solve problems.
The second topic of discussion was leading the team in times of crisis. The Aksel.Id Co-Founder Dio Anamia underlined the importance of staying focused on the big picture during a crisis.
Meanwhile, Imam Reiza Fahlevi, the Vice President of Engineering at eFishery, emphasized the value of trust and openness in times of crisis to foster a positive work atmosphere.
The presenters also discussed how to maintain employee motivation during a crisis. Saudi Khaneng emphasized the importance of remaining calm and holding regular team meetings, even informal ones, to inspire and persuade workers to adhere to company goals. While setting expectations and upholding company culture is crucial to create a pleasant work environment, according to Dio Anamia.
BV E-Talk offers participants a useful forum to learn from experienced business leaders. BV E-Talk at Bukit Vista is an excellent opportunity for aspiring and experienced leaders to learn.
This event emphasizes the value of continuing education, self-awareness, and problem-solving skills for successful leadership. Talks about crisis management also provide useful insights into how to deal with difficult circumstances and maintain a positive work environment.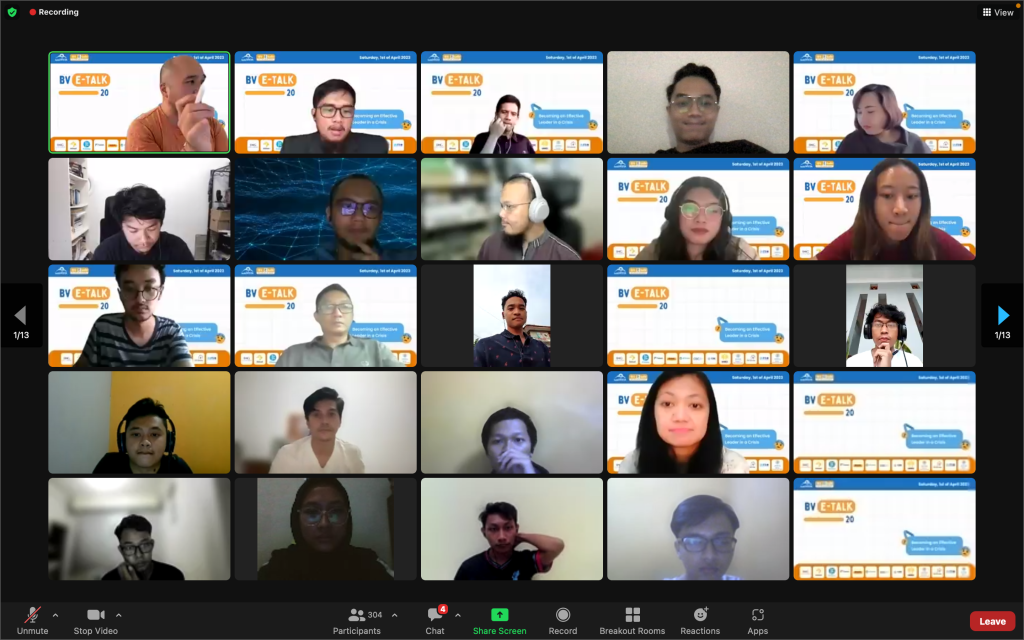 Written by Student Reporter (Muhammad Zem, Management 2023)