Developing workers is far more essential than promoting technology development and innovation. Technology and innovation in the company will be useless if the people cannot carry out the task or understand how it works.
There are three primary keys to corporate transformation namely: humans as the center, the speed of technological development and periodic innovation. Changes in the human aspect itself are transformations in terms of organization and workforce and human resources.
"Organizational structure and the people in it are like a vehicle for companies to achieve goals and targets," said Lusi Lubis, Ernst and Young People Advisory Services Partners, while presenting in a guest lecture session on Psychological Organizational Behavior at SBM ITB on Tuesday ( 21/3).
Several factors make an organization change, starting from many workers who resigned and lacked talent and skills. Therefore, companies need to build a stable organization.
Lusi explained that organizational transformation would be unpleasant for some parties because they were forced out of their comfort zone. Lusi emphasized that for a successful transformation, companies need to pay attention to the operational environment in terms of workers' experience in that environment. EY usually uses a framework focusing on two aspects: operating model (such as strategy) and the operational environment (such as the mindset of the workers).
According to Lusi, many companies need guidance in overcoming their problems. Thus, consulting services are essential and widely used as her company, EY.
There are three main skills of being a consultant: personal skills (such as paying attention to details and voicing opinions), interpersonal skills (the ability to cooperate or communication), and business understanding (such as innovation, the ability to solve problems and others).
Ernst and Young is a global consulting firm that aims to build a better world of work by transforming business through the power of people, technology, and innovation. Four service areas are the focus of EY, namely insurance, taxation, consulting, strategy, and transactions.
Even in the consulting field, three areas are covered: technology, business, and people. Lusi mentioned that many SBM ITB graduates work at Ernst and Young companies, among them are Abel Tedjamulja, and Maria Stephanie Widjaja who occupy senior manager positions. EY, said Lusi, also opened opportunities for SBM ITB students to do internships.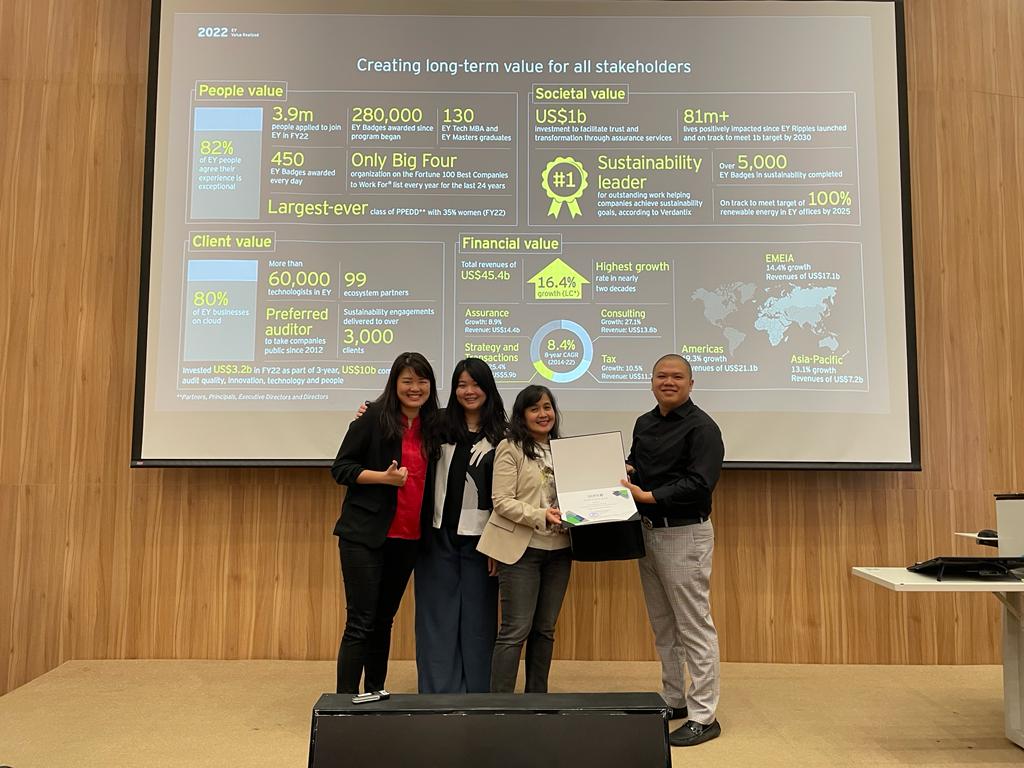 Written by Student Reporter (Luthfaliya Zahira, Management 2025)