The public knows SBM ITB for its flagship business programs and commitment to offering students a global education. Every year, SBM ITB offers two international programs: Double Exchange Program and Double Degree Program. These programs allow students to earn a Bachelor of Management in International Business while studying at SBM ITB and take business-related courses at partner universities worldwide.
SBM ITB establishes partnerships with more than 30 universities worldwide, including UK, Netherlands, France, Australian, and German institutions. To introduce this international program, SBM ITB held an international workshop that discussed culture, language, and study preparation for students interested in studying in Germany in Bandung on Friday (17/3).
The workshop began with remarks from Achmad Fajar Hendarman, the Head of the Management Program at SBM ITB. Caroline Brendel, the Director of the Goethe-Institut Bandung, also gave a speech. Finally, Arief Hariyanto, the Director of Academic Affairs at ITB, provided additional context for the workshop.
One of these workshops discussed language preparation for studying in Germany. Dadan Hamdani, an expert on German language education, discussed the importance of learning German and the resources available to students.
Students, for example, can study German at the Goethe-Institut, a leading institution for German language courses and examinations. This institution adheres to internationally recognized standards for teaching German as a foreign language. They offer language courses, develop teaching materials, support learners, and participate in scientific research and language policy initiatives.
There are various levels of German language proficiency, starting from A1 and A2 for basic competence, B1 and B2 for intermediate competence, and C1 and C2 for professional competence. The Goethe-Institut adheres to the standards of the Association of Language Testers in Europe (ALTE) to ensure quality in all language learning and testing aspects. This standard includes competency standards and quality criteria for test construction, administration, assessment, certification, evaluation, and data storage.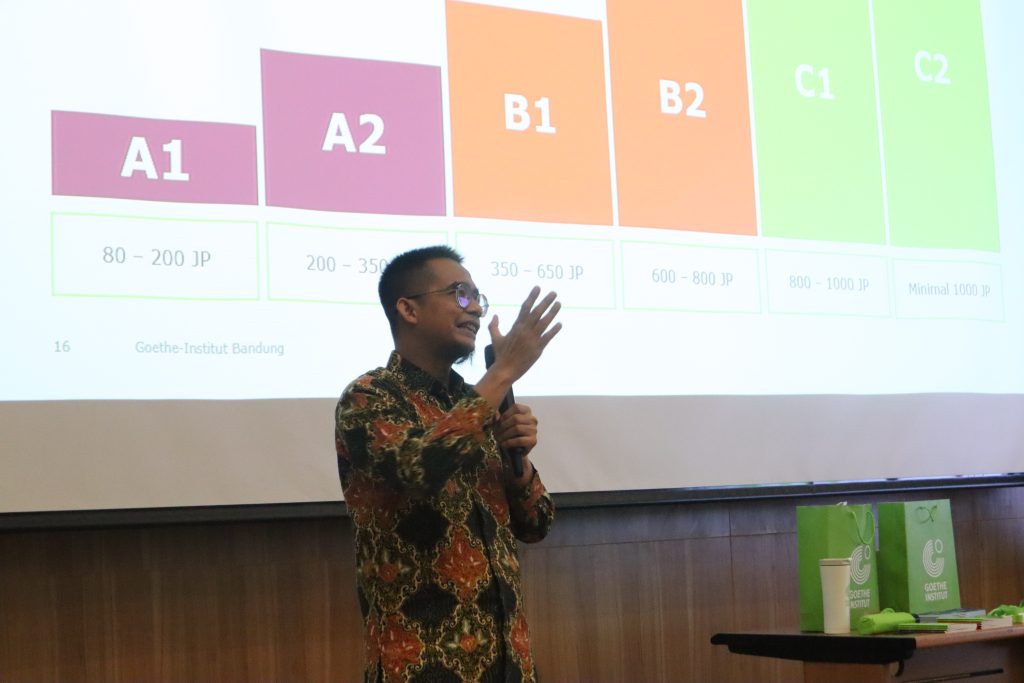 Apart from the presentation, the workshop was also filled with sharing sessions with Ikhsan Fahri Pratama, an alumnus of Gottfried Wilhelm Leibniz University Hannover. He shared his experience studying in Germany and stressed the importance of preparing early to study abroad.
"Facing a new culture was a transformative experience for me," he said.
SBM ITB's international program provides students with a unique opportunity to experience different cultures and gain valuable knowledge and skills in the business field. With worldwide partnerships and a commitment to excellence, SBM ITB is the top choice for students seeking a global education in business.
Written by Student Reporter (Muhammad Zem, Management 2023)