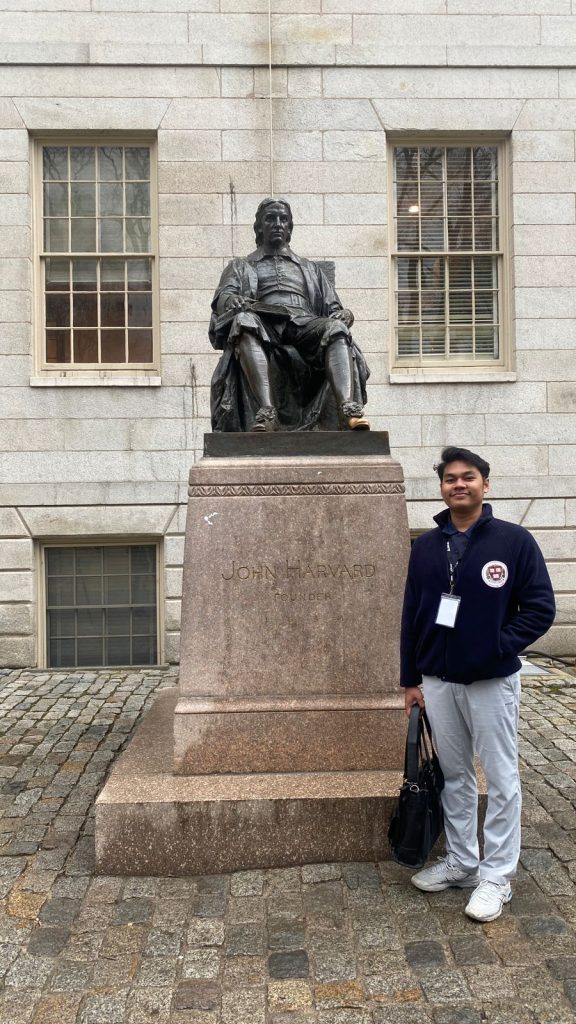 Elan Pradana, a senior student majoring in Management at SBM ITB, recently reached an important milestone. Apart from being invited to attend The Harvard College Project for Asian and International Relations (HPAIR) 2023, he and his team also won the competition held at the event. This highly-reputed event, which is 30 years old, brings together students and young professionals from countries around the world to exchange ideas, learn from leading figures in government, business, the social sector, and academia, and cultivate leadership skills.
Elan underwent a rigorous selection process, which began in November 2022. HPAIR 2023 occurred from 17-19 March 2023 at Harvard University, Boston, USA. While there, Elan attended various seminars, coaching sessions, conferences, exclusive seminars, and case challenges that tested participants' skills and knowledge.
Elan is part of a team of six participants from different backgrounds and countries. He is highly motivated to unite their ideas and emerge victorious in the competition.
"I didn't expect to win because there were so many participants in this program, including international activists, and most of them were non-students," said Elan in Bandung Wednesday (22/3).
His hard work and dedication paid off. He was awarded an award recognizing his outstanding performance.
According to Elan, HPAIR is a great opportunity to broaden his horizons, meet people from various backgrounds, and network with them. He was impressed by the quality of the speakers and the level of discourse throughout the event.
Elan still remembers one special statement from Akhil Gupta, one of the speakers at the event. Akhil stressed the importance of having a "global mindset" to bring about change in the global arena.
Elan hopes his achievements at HPAIR can motivate other SBM students to take advantage of the existing opportunities and realize their potential to the fullest.
"Life cannot win without taking risks," he said, emphasizing the importance of being brave and taking the initiative to achieve goals.
As the Editor in Chief of the Luminaire Collective, a student-managed media platform at SBM ITB, Elan plans to apply what he learns from the conference to his daily life and work. He wants to focus on changing his mindset and applying it to the Luminaire Collective. He believes this will significantly impact the platform's audience and stakeholders and ultimately help him achieve his personal and professional goals.
Written by Student Reporter (Muhammad Zem, Management 2023)