The economic recession has had a major impact on business sustainability. During the pandemic, a recession occurred, causing many businesses to go bankrupt because they could not adjust.
In the Ganesha Business Festival on Saturday (25/3), three companies shared their tips on surviving during a recession and pandemic. They are Bluebird, PT Antam, and Bittersweet by Najla.
According to Blue Bird's Chief Marketing Officer Mediko Azwar, Blue Bird used many methods to survive and thrive during recessions and pandemics. Among others are delivery between cities, opening rental services, types of services according to customer wishes, and logistics.
This company is disrupting in the pandemic, resulting in many changes. The service is in various channels, such as the call center and the Whatsapp application. They also created a new feature called easy to pay. Customers can pay non-cash, but calling a taxi remains conventional.
Meanwhile, Antam is fighting the pandemic recession by increasing public interest in investing. This gold company sells gold and offers other programs, namely financial planning.
Initially, many Indonesian people still relied on the savings system, but it is no longer relevant today. Antam finally took steps to increase public awareness about investing through digital marketing.
The company also sells gold at low enough denominations so that it can be purchased from various economic circles. Gold is also sold in physical form equipped with a Bullion Protect layer to prevent buying counterfeit products.
"A recession or inflation causes the dollar exchange rate to rise. Gold prices abroad fell. Uniquely in Indonesia, the price of gold is still rising and consistent. This is called Heaven Assets," said Nuning Wahyuningtyas, Vice President of Marketing of PT Emas Antam Indonesia.
Meanwhile, Bittersweet by Najla relies on social media in its marketing. Bittersweet does marketing with the story method to audiences through Instagram, Tiktok, and other platforms. The Tiktok platform is the number one account with the most followers in the Indonesian FnB business.
"The key is that we use social media because it is the cheapest but most effective marketing technique," said Najla Farid Bisyir, CEO and Co-Founder of Bittersweet by Najla.
According to Najla, this business was established because she wanted to solve problems in the market, namely delivering cakes to various regions and directly into customers' hands. Initially, during the cooking process, Najla felt many distractions, such as accompanying children to play, providing food, and others.
Najla finally decided to invest in her work system. She built a central kitchen and hired many employees to help her.
Bittersweet by Najla can also be ordered through the online motorcycle taxi platform. Najla's target for Bittersweet in the future is to open outlets abroad and increase collaboration with foreign partners.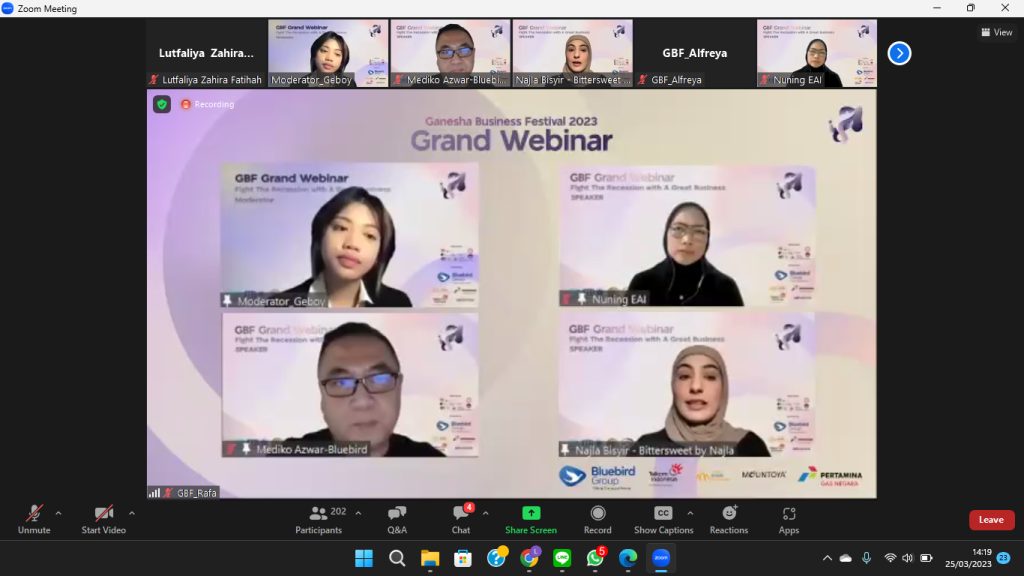 Written by Student Reporter (Luthfaliya Zahira, Management 2025)