The Greater Hub SBM ITB held an evening of awarding and breaking fast (iftar) together to close Coaching Clinic UMKM JABAR Batch 9 2023 on Friday (31/3) at the MBA ITB Campus Bandung. This activity was held on a limited basis and attended by the mentoring participants.
For information, the Coaching Clinic UMKM JABAR is a program initiated by The Greater Hub SBM ITB to improve MSMEs in West Java with professional assistance. For Batch 9, The Greater Hub SBM ITB collaborated with Akseleraksi by providing support through scholarships worth 50 million rupiahs through mentoring for 400 selected MSMEs who registered since January 2023.
The Director of Incubator, The Greater Hub SBM ITB, Dr. Dina Dellyana, said that this series of activities was a form of SBM ITB and The Greater Hub's commitment to supporting MSMEs and micro-economy with principles of environmental, social, and governance (ESG) sustainability with a measurable impact on society.
According to the press release provided by SBM ITB's The Greater Hub, SBM ITB is currently intensively collaborating with various parties to realize the ESG commitment with its enthusiasm to encourage the realization of Social Development Goals (SDGs). By collaborating with Akseleraksi, SBM ITB wants to realize one of the SDG's achievements, which is to provide decent work and economic growth.
In this series of mentoring, selected participants get the opportunity to carry out face-to-face 1-on-1 consulting session activities with a business coach who are a professional in the field. In addition, the participants received assistance in making company profiles, product catalogs, business logos, and digital marketing strategies with a technical context to help with some of the legalities and permits needed to support MSMEs.
The Co-Founder of Akseleraksi, Gilang Bagaskara, added that in this batch, Akseleraksi had provided 1,000 hours of training for selected MSMEs. It was a success, thanks to the collaboration of 30 professionals who became business coaches.
"30 professional business coaches, most of whom are MBA ITB students with specific business and professional experience to help MSMEs," said Gilang.
The COO of Akseleraksi, Indah Darapuspa, in her presentation, added that the program that will be held throughout 2023 would enter a new phase and be more varied. Realizing that the challenges are increasing, many programs will be presented, more specifically, to answer the needs of MSMEs in the future.
Therefore, in the series of closings, Akseleraksi Launched the English for Business program for MSMEs. This program results from collaborating with Cetta Online Class to build good foreign language skills for advanced MSMEs to communicate globally for their business.
"The Coaching Clinic will transform into programs that are more specific to respond to the technical needs of MSMEs so that progress in their business is not just jargon but can be measured," said Indah.
The Coaching Clinic UMKM JABAR will be held again shortly. Coaching Clinic UMKM JABAR is planned to be conducted continuously.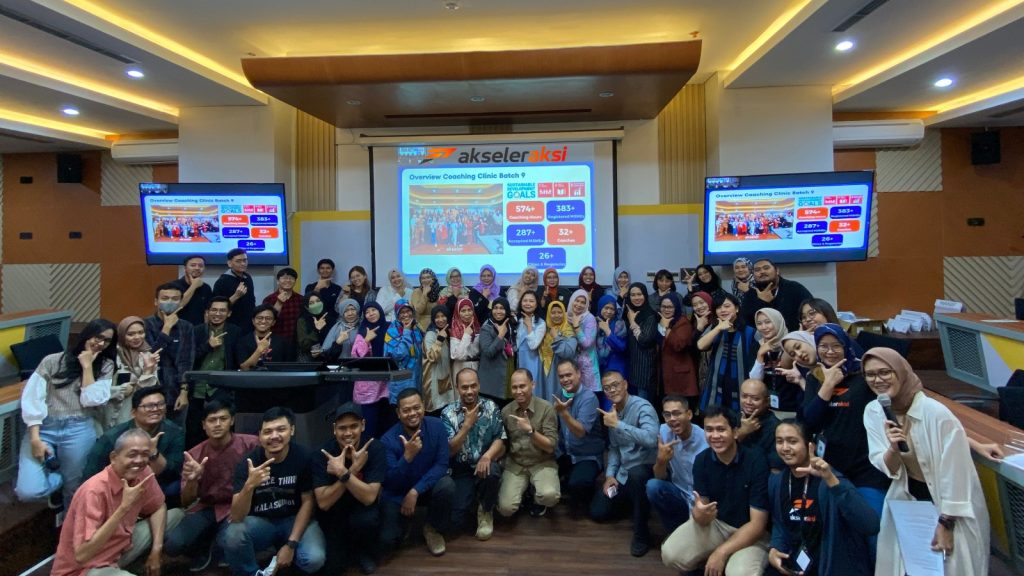 Written by Student Reporter (Bashravie Thamrin, Management 2024)