The logistics market in Indonesia has experienced significant growth from US$ 150 billion to US$ 350 billion. However, compared to other ASEAN countries, truck utilization in Indonesia is still low.
Indonesia's truck utilization rate is only 8,000 kilometers per year, while in other ASEAN countries, it reaches 150,000 kilometers per year. This means that the truck utilization rate in Indonesia is only 45-55%.
Moreover, the logistics performance index is low, and there is a shortage of human resources in the industry. Around 48% of trucks in Indonesia are used for loading capacities that are not optimal, while 52% of them are used for empty backhaul, i.e., without any cargo, when returning from the place of delivery to the place of origin.
This problem prompted Batara Parada Siahaan, a doctoral student in the Business Management study program at SBM ITB, to conduct research. He developed a collaborative truck logistics system that simulates truck allocation, revenue development, emission optimization, and incentive alignment.
Batara successfully defended his dissertation entitled "Truck Logistics Collaboration Model: System Thinking and Simulation Modeling to Inform Truck Sharing Economic Policy" in Bandung on Friday (14/4). Prof. Ir. Togar Mangihut Simatupang, M.Tech., Ph.D., and Dr. Liane Okdinawati, ST., MT were the primary and co-promoters of his dissertation, respectively. Meanwhile, the examiners were Prof. Dr. Ir. Dermawan Wibisono, M.Eng, Dr. Manahan Parlindungan Saragih Siallagan, and Dr. Carles Sitompul, S.T., M.T., M.I.M from Parahyangan Catholic University.
Through a multi-faceted approach, Batara analyzed the components of a business service system in truck logistics and the critical actors in the sharing economy concept in truck logistics. He obtained information through surveys of companies, business people, and policymakers, recognizing the importance of simulation in reaching conclusions.
His research provides an ideal service design for customers, and he also developed the impact of good truck utilization starting from truck allocation, incentive alignment, and emission reduction.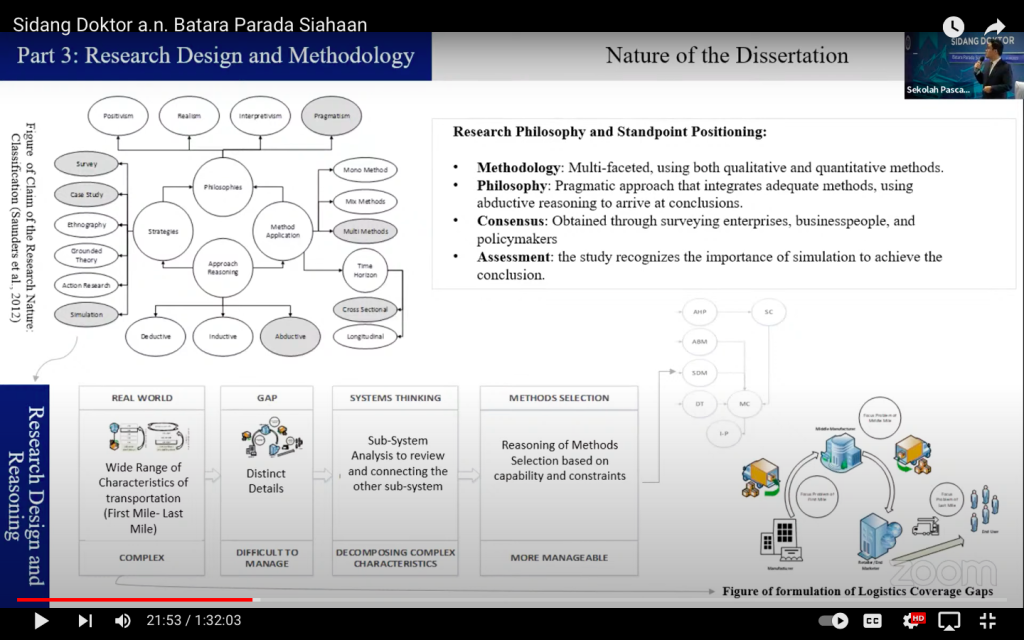 Written by Student Reporter (Defrina Dwifani, MSM 2022)