To understand the potential of Bandung's creative space, the Entrepreneurship Study Program students at SBM ITB visited the Bandung Creative Hub on Wednesday (12/7). Students observe and interact with the creative space, the pride of Bandung.
During their visit, students also tried to find solutions that could increase the interests and talents of Bandung's young people in developing their creativity in various fields of arts and the creative economy.
"This visit to the creative hub is to discover, observe, and interact with creative spaces in Bandung. We can provide solutions on how this creative space attracts young people in Bandung to develop their interests and talents in the creative field," said Bayuningrat, a Creative and Cultural for Entrepreneurship SBM ITB lecturer.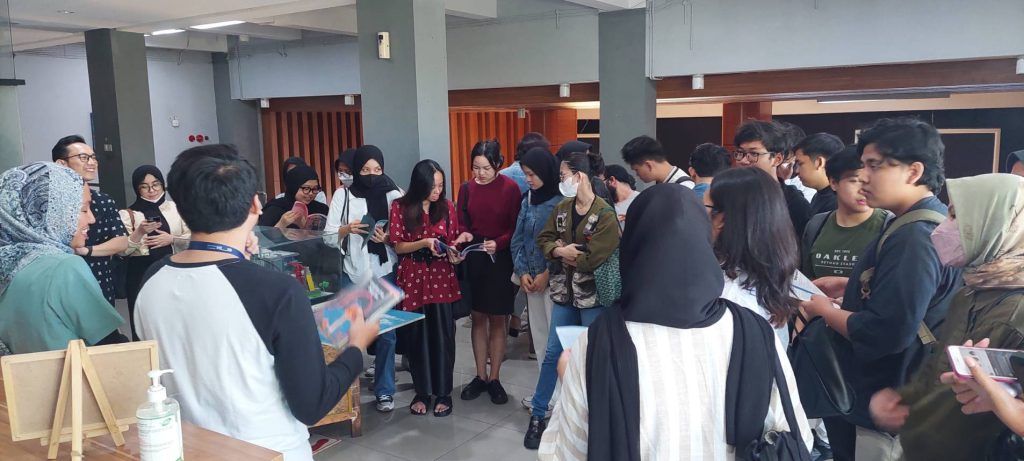 Arriving at Bandung Creative Hub, Eka, the guide, greeted the group of students. Eka explained the free facilities for Bandung Creative Hub visitors.
"However, you have to contact the Bandung Creative Hub before using the existing facilities," said Eka.
Bandung Creative Hub offers various facilities for the creative community and Bandung residents. Some of them are exhibition halls, libraries, film screening rooms, music studios, recording studios, and workshop rooms, which have been equipped with supporting facilities for the animation, fashion, and photography sub-sectors.
Not only providing creative facilities, Bandung Creative Hub also offers several co-working spaces equipped with tables and chairs, which can be used for meetings or group activities. Bandung Creative Hub is a place that can accommodate all types of needs related to 17 creative economy sub-sectors, including game development, architecture, interior design, music, fine art, product design, fashion, culinary, film, animation, and video, photography, Visual Communication Design, Television and Radio, Crafts, Advertising, Performing Arts, Publishing, and Applications.
With this visit, it is hoped that SBM ITB Entrepreneurship students can positively contribute to the development of the creative economy in Bandung and motivate the younger generation to continue to explore their potential and creativity in arts and creative economy.
Written by Student Reporter (Fairuuz Fawwas Alfarizi T, Entrepreneurship 2024)