As proof of commitment to strengthening and developing the quality of education and preparing reliable entrepreneurs, the "Artha" Entrepreneurship Student Association (IMK "Artha") SBM ITB launched an innovative program called Artha Sandbox 1.0 (16/9). This program aims to educate students on entrepreneurial values and help them develop the skills needed to start and manage their businesses.
The Artha Sandbox 1.0 program was initiated by Gilbert David Kurniawan, the Chief Organizer, who played a crucial role in bringing the vision and goals of this program forward. According to Gilbert, SBM ITB students have great potential in entrepreneurship but need in-depth training and a comprehensive understanding of various aspects of business.
Nowadays, students are expected to possess not only innovative business concepts but also the ability to proficiently convey these ideas, particularly when pitching them to potential investors or participating in business competitions. The primary focus of Artha Sandbox 1.0 is to impart the essential skills for effective pitching—a critical aspect of the entrepreneurial world.
"Students must be well-prepared to deliver a pitch, be it for business competitions or seeking investment for their ventures. A compelling pitch can significantly impact investor interest and pave the way for business success," emphasized Gilbert.
Artha Sandbox 1.0 delves into crafting pitch decks, with instruction provided by Zartikazahra Nurulfiqri, a seasoned business practitioner and a mentor at SBM ITB. A Pitch Deck is a concise presentation introducing a business or project to potential investors. Each slide within the pitch deck plays a pivotal role in constructing an effective business presentation, commencing from the cover slide, problem statement slide, solution slide, market opportunity slide, business model slide, traction slide, market strategy slide, competitive analysis slide, team slide, financial projection slide, use of funds slide, and concluding with milestones and timeline slide.
The pitch deck must be designed carefully and effectively to capture the audience's attention and gain support. In Artha Sandbox 1.0, students are taught how to arrange each of these slides systematically so that they can communicate their business vision well to potential investors or parties who have the potential to support their business.
This program confirms SBM ITB's commitment to producing young entrepreneurs ready to contribute to the business world and present innovations that encourage economic growth. Artha Sandbox 1.0 is a promising first step in producing quality young Indonesian entrepreneurs.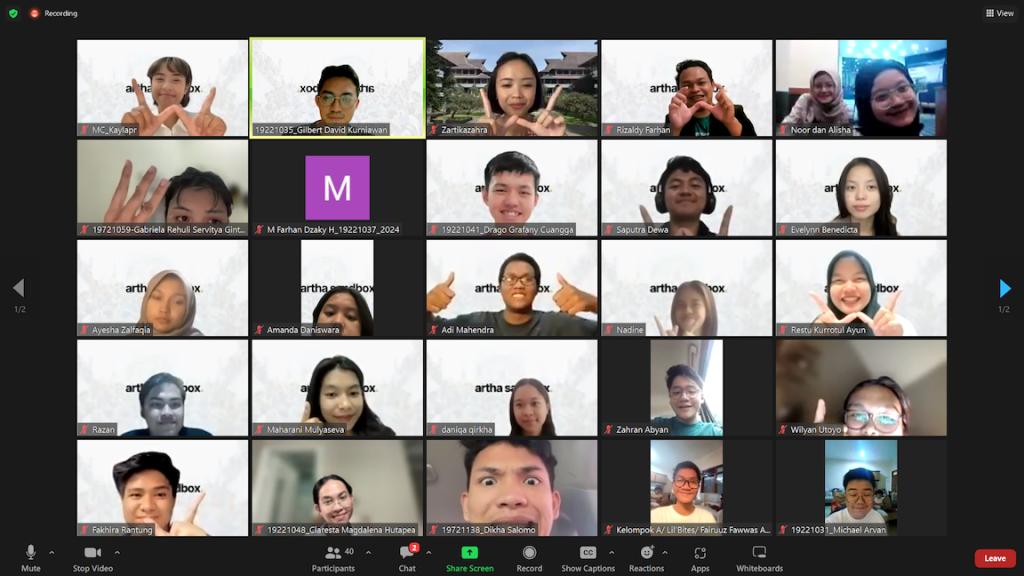 Written by Student Reporter (Fairuuz Fawwas Alfarizi T, Entrepreneurship 2024)