The Student Family Association of SBM ITB organized a procession for the October 2023 graduates, parading along Jalan Ganesa in Bandung on Sunday (29/10). This tradition involves circling ITB and returning to SBM, serving as a gesture of appreciation for the graduates' accomplishments during their time at SBM ITB.
The procession started from Saraga (Ganesha Sports Facilities), featured orations in the tunnel, and concluded with a performance at the SBM ITB building. At Saraga, the graduates received a warm welcome from the assembled crowd. Amidst laughter and celebratory vibes, the graduates, donned in jackets and kebayas paired with hats and togas, congregated and strolled towards the tunnel. Embracing the theme "The Journey of a Thousand Steps," the graduates were urged to recollect the struggles and endeavors leading to their graduation and their role as future leaders.
"I hope this theme serves as a reminder to the graduates of their journey, prompting them to appreciate their achievements. Undoubtedly, they've overcome significant challenges to reach this point. It's akin to taking a new step forward. I wish them success as future leaders," expressed Hansen Marciano, the chairman of the 2023 SBM ITB October Graduation Ceremony.
The October 2023 graduates have amassed a multitude of memories. From navigating online lectures during the pandemic to collectively establishing a business, persevering through their theses, and ultimately graduating, these experiences and lessons have molded them into innovative and entrepreneurial leaders.
"I firmly believe success is born from hard work and dedication. Seeing you graduate is bittersweet, and there's a sense of loss. Nevertheless, my sincere hope is for your swift success, contributing leaders to our nation from among your fellow entrepreneurial comrades," conveyed Zakaria Khori Hermawan, Chair of the IMK "Artha" ITB Association 2023/2024, in his tunnel oration.
The procession unfolded along the graduates' journey, accompanied by an enthusiastic crowd. Elaborate props, including dragons and symbolic currency, alongside departmental student association flags, were proudly displayed. Confidence and joy resonated through chants as they reached the SBM Building.
Culminating in a performance, the graduates witnessed a musical drama enacted by the SBM' 25 and SBM' 26 classes, narrating the conflict between two Chinese kingdoms. This story sets the stage for the 2023 SBM ITB Graduation Night event. May success perennially accompany them on their future career paths, enabling them to evolve into innovative and entrepreneurial leaders, advancing business, government, and society.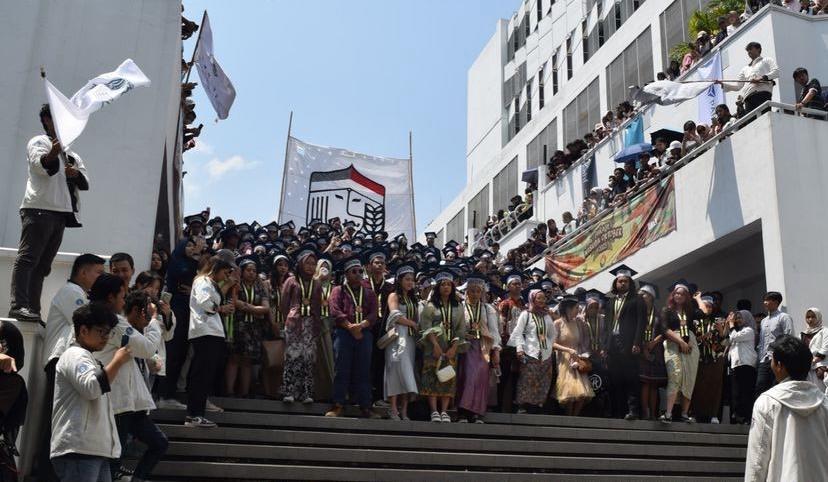 Written by Student Reporter (Hansen Marciano, Management 2025)