Business people must understand the market in depth. To understand this market, several tools can be utilized, such as Total Addressable Market (TAM), Serviceable Addressable Market (SAM), and Serviceable Obtainable Market (SOM).
All three are analytical tools that help businesses identify their opportunities and growth potential. A comprehensive understanding of this market segment is a crucial foundation for informed decision-making.
Zaim Qashmal, the Vice President of Growth and Corporate Strategy at PT Ordivo Teknologi Indonesia, explained this market understanding when presenting as the guest lecture at a Business Scale Up event at SBM ITB on October 27 2023. Zaim shared his knowledge and experience in developing a business, illuminating critical aspects of achieving success in the ever-changing business world.
Zaim emphasized that there is no instant solution or magic recipe for achieving business success. Each business has its characteristics, and growth strategies to be adapted to each situation.
Copying other people's steps will only lead to failure. Business success lies in the ability to adapt and design a unique approach according to business needs and goals.
Zaim introduced the concept of the "triangle" as a framework for managing business. This concept includes three main components: marketing, commercial demand creation, and operations and technology.
Marketing includes efforts to expand reach and attract customers. Commercial demand generation involves strategies for converting customer interest into actual sales. Meanwhile, the operations and technology section covers fundamental aspects, such as systems, infrastructure, and support needed to run a business efficiently. This framework highlights the important role played by each component in building a sustainable business.
Zaim's career journey is also a source of inspiration for many people. From his initial position as Regional Marketing Manager to the position of Vice President of Growth and Corporate Strategy at PT Ordivo Teknologi Indonesia, Zaim's journey highlights the dynamics of growth which are not always linear. This shows that business success can be achieved through a winding journey, and each step in the journey has benefits and valuable lessons.
Financial management, according to Zaim, is one of the main pillars of business success. Finance acts as a foundation that supports daily operations. In business, finance is often considered the lifeblood, ensuring the entire business organism functions well. Implementing smart financial strategies is key to maintaining stability and sustainable business growth.
Zaim also emphasized the need to adapt to change. The business world is ever-changing, and the effective strategies today may not be applicable tomorrow. The ability to innovate and pivot according to market changes is one of the key foundations for achieving long-term success.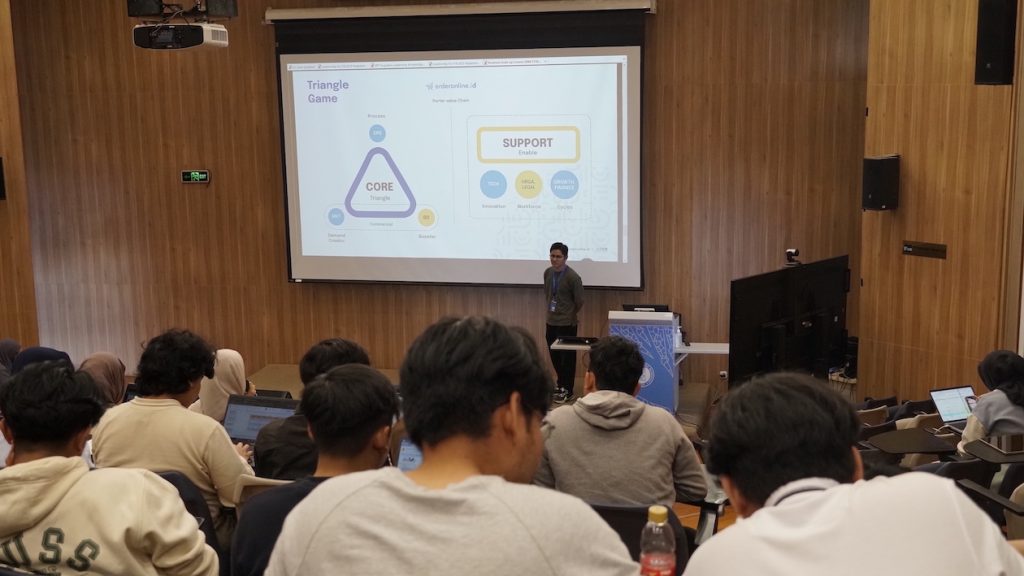 Written by Student Reporter (Fairuuz Fawwas Alfarizi T, Entrepreneurship 2024)