Dozens of international students from the SBM ITB student exchange program joined a cultural trip to Parakan Ceuri Village, Purwakarta, on Thursday (26/10). Aiming to introduce Sundanese culture, students immerse themselves in rural life at Parakan Ceuri.
More than 70 students, including 39 international students from various countries, participated in this trip. Upon arrival at Parakan Ceuri, village residents immediately greeted students with traditional snacks, such as fried cassava, fried sweet potatoes, boiled corn, and pumpkin. There are also traditional drinks, such as es cendol and es cuing.
Everyone tried the food while enjoying the village atmosphere. Annisa, a foreign student from France, admitted that she discovered many things during the visit. "This is the first time I have eaten fried tofu," said Annisa.
After enjoying the food, students were asked to join in a traditional dance performed by village children. They also went down to the rice fields to learn how to plow and pound rice. They also tried the "ngagobyag" culture: catching fish in small lakes with bare hands. Dupont, a foreign student from France, admitted that he liked it the most when he learned to plant rice. "It was a bit muddy. Working like that every day was the bravest thing!"
As time passed, they all took a lunch break at Saung Manglid near the rice fields. An atmosphere full of excitement radiates from international students who will try various typical Indonesian dishes.
The SBM ITB students who were their partners during the program were happy to explain the food ingredients. Indonesian and foreign students talked to each other about the culture of their respective countries of origin. It was a great moment.
After lunch, they walked to the brown sugar-making house. A middle-aged woman made it, and a middle-aged man explained the whole process of making brown sugar.
Next, the students tasted UKM coffee harvested directly from that place. There, they have explained the ins and outs of UKM coffee and the process of serving a cup of coffee.
"I hope you (students) have fun today because I also have fun here. I see you planting rice, catching fish, and walking around. I hope this is only the beginning of a good experience for you at SBM ITB and for me. "I officially welcome you to our school. I hope you will have an extraordinary semester with us," said Ira Fachira, the Head of the International Relations Office of SBM ITB, closing the visit.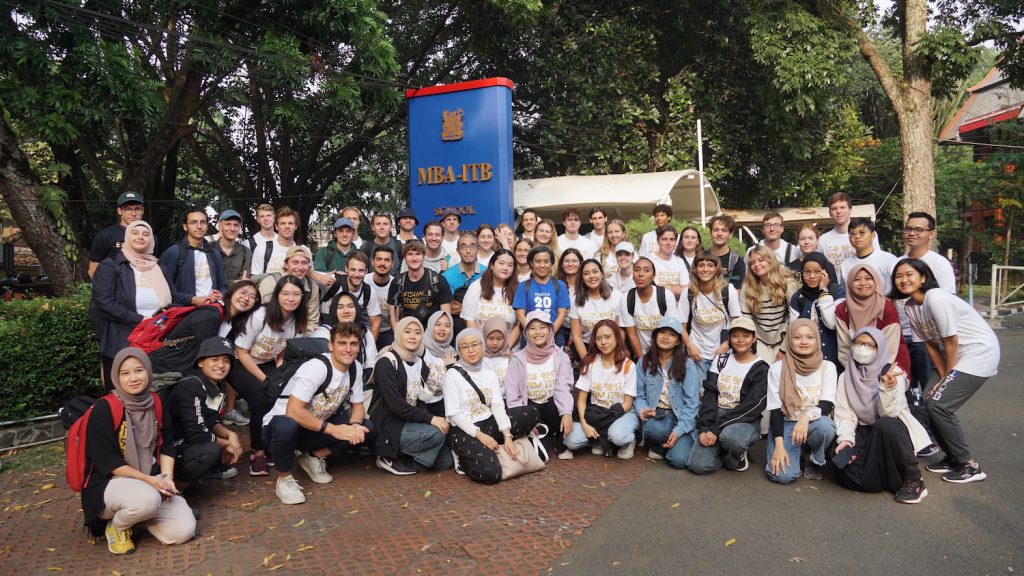 Written by Student Reporter (Noor Nafisa, Entrepreneurship 2024)