TACO Group has become a market leader in the interior products industry. After being around for 40 years, TACO doubled its business in the last five years.
The company has produced various interior products, such as HPL, vinyl & SPC flooring, PVC edging, PVC sheet, hinges, spring gas, and multi-purpose yellow glue. According to Irwan Dewanto, Vice President of Human Resources TACO, the company's success cannot be separated from the company's efforts to continuously listen to customer needs and innovate to produce the best interior products.
In TACO's path to success, Satria Utama, the VP of Business Development & Commercial Marketing, asserted that the key lies in innovating products and their marketing strategy. He underscored the significance of understanding how to generate demand and establish a foothold in a complex market. Satria disclosed that a substantial majority of companies in Indonesia rely on distributors, MLMs, or affiliates.
"In a situation where each shop has a specialty, building brand awareness is crucial. Our main target is carpenters, with the main contribution from HPL. We need to invest in marketing and branding with a measurable ROI (return of investment)," said Satria when accepting the Visit of MBA ITB students at TACO head office in Jakarta on Wednesday (8/11). Irwan and Satria welcomed students' arrival in a talk show and office tour session.
Satria also explained TACO's innovation strategy and operational management in the talk show. According to Satria, understanding core competencies and continuously innovating are key to the company's success. It is important to find, for example, the 'sweet spot' in a product.
TACO, for example, found that their versatile yellow glue product is not only used as a building material but is also often used in vehicle or shoe services. By finding this 'sweet spot,' companies can tap previously untouched markets.
In a business-to-business (B2B) context, 90% of TACO's contribution comes from furniture craftsmen and interior designers. Meanwhile, owners of skyscrapers and the like contributed only 10%. Satria outlined their efforts to create greater demand from MSMEs (Micro, Small, and Medium Enterprises).
According to Satria, TACO Group also places corporate social responsibility and creates shared value with society as important. Efforts to help MSMEs advance not only provide benefits to society but also have a positive impact on business. This is highlighted through TACO's initiative to hold workshop classes for TACO partners so they can continue to develop their businesses.
"The contribution of TACO partners (MSMEs) to TACO Group is around 90% if their business continues to expand. Certainly, TACO Group will benefit too," said Satria. "That's why we often hold workshops. For example, the topic of how to make simple financial reports. "There have been more than 7,000 participants who have participated in this workshop for TACO partners."
Meanwhile, in the context of human resources, Irwan explained the importance of companies investing in employee skills. Irwan admitted that there are challenges in finding individuals who can build products, especially regarding research and development in Indonesia.
"Therefore, TACO Group launched a management trainee program which is expected to shape the skills of these employees from the start. "There are around 5,000-10,000 registrants in the program that opened yesterday," said Irwan.
Besides launching the management trainee program, Irwan also added the importance of creating a comfortable work environment. Reflecting on TACO Group's vision of being a blessing to many people, TACO strives to always provide blessings to their employees by listening to employee needs and involving empathy in their work.
TACO claims it is in no rush to list on the stock exchange and remains focused on long-term sales forecasts. They detailed the three main pillars of the company's strategic moves: activity, innovation, and market development. TACO wants to become an industry leader by combining innovation, social responsibility, and business sustainability.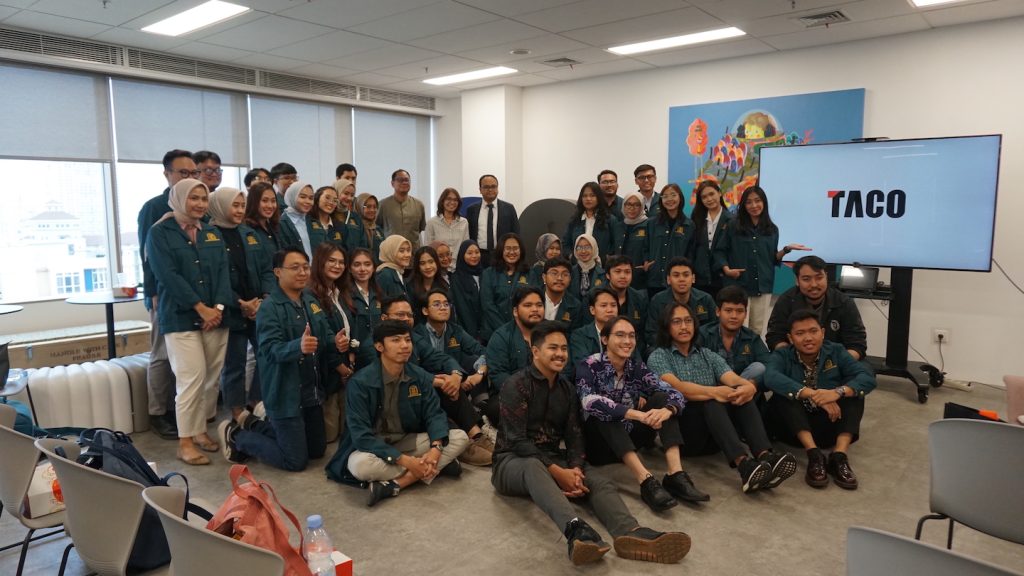 Written by Student Reporter (Nabilla Rizky, MBA YP 68C)