Anggara Wisesa was appointed in early 2023 as Head of the Master of Science Management-Doctor of Management Science study program (MSM-DSM) ITB. He, affectionately known as Awi, embarked on an unconventional path during his undergraduate studies, making an unexpected switch in majors.
In 1999 he enrolled in an undergraduate program at the Faculty of Psychology at a private university but later, he decided to transfer to a public university. Two years later, Awi re-transferred and finally completed his bachelor's degree at the Philosophy Study Program, University of Indonesia, in 2005.
It has come to light that Awi also has a passion for collecting action figures, which he pursued to finance his studies. Engaging with the collector community, Awi gained the trust of many individuals who relied on him to procure character figures from overseas, thus venturing into the business realm.
After graduating, Awi commenced his career as a tutor, teaching courses such as Study of Community Order, Business Ethics and Law, Religion and Ethics, and Community Services at the ITB School of Business and Management (SBM) in 2006. Shortly, he pursued a Master's in Human Resources Management (HR) at Parahyangan Catholic University, completing his studies in 2009.
Two years later, inspired by his Master research, Awi pursued his PhD at the University of Indonesia and completed in 2016. He strengthened his previous research from a theoretical and philosophical perspective.
His interest in studying humans began when he observed community activities from a distance. Awi's first choice to study this matter was psychology, but ultimately, he decided to study human beings from a philosophical perspective.
"From a philosophical standpoint, human learning revolves around engaging in argumentation and seeking to comprehend human thought. No absolute right or wrong exists, and we can express ourselves openly. What holds paramount importance is appreciating someone's thoughts, allowing us to understand their background and the reasons behind their perspectives. That's what makes it intriguing," said Awi.
Awi's interest in studying humans aligns with the course on Community Service at the undergraduate level. This course, which has existed since SBM was founded, is a learning excursion activity to build empathy, social awareness, and culture through diversity.
The activities describe that students in the joint preparation stage (TPB) or new students, face a different society and environment, so they must adapt to that society. Then students can study the mindset and behavior of these people to understand and appreciate differences.
This course is different from the community service course or known as Real Work Lectures (KKN). In KKN, students implement learning outcomes according to the knowledge (majors) pursued so that students become catalysts for change in the local community. The goals are also different, including community empowerment and student social responsibility towards the community.
After years as just a teacher, Awi started to take a structural role at SBM ITB. Awi's journey toward the structural realm began when he joined SBM ITB as a Principles for Responsible Management Education (PRIME) member. In 2019, Awi became the Deputy Director of the MSM-DSM Program chaired by Yunieta Anny Nainggolan S.E., M.Com., Ph.D. In 2020, when the leadership period changed, Awi remained as Deputy Director. In early 2023, Awi was chosen by the senate to become the program director for the next two years.
Awi's motivation to lead his colleagues in the MSM-DSM study program is to help them become excellent researchers by strengthening fundamental management theories and concepts so students understand deeply. Through Awi's humanist leadership style or management with a human touch, he removes all forms of formality in the academic community and provides space for innovation. This style is balanced with a strategic approach that requires Awi to take more initiative to decide on urgent matters.
"This leadership style is no different from previous leadership, but I only enriched it during my leadership period," said Awi.
Awi adheres to one principle in his life: "Don't do something bad for a good reason." He interprets this phrase as "do good for the sake of goodness itself."
Awi's message to friends who are currently in college is to focus on assignments, provide the best service for everyone, and be a person who has principles. Because the study program he leads is considered his calling to become a researcher, he links it to his life goals, and make this learning moment a journey of achievement as a human being.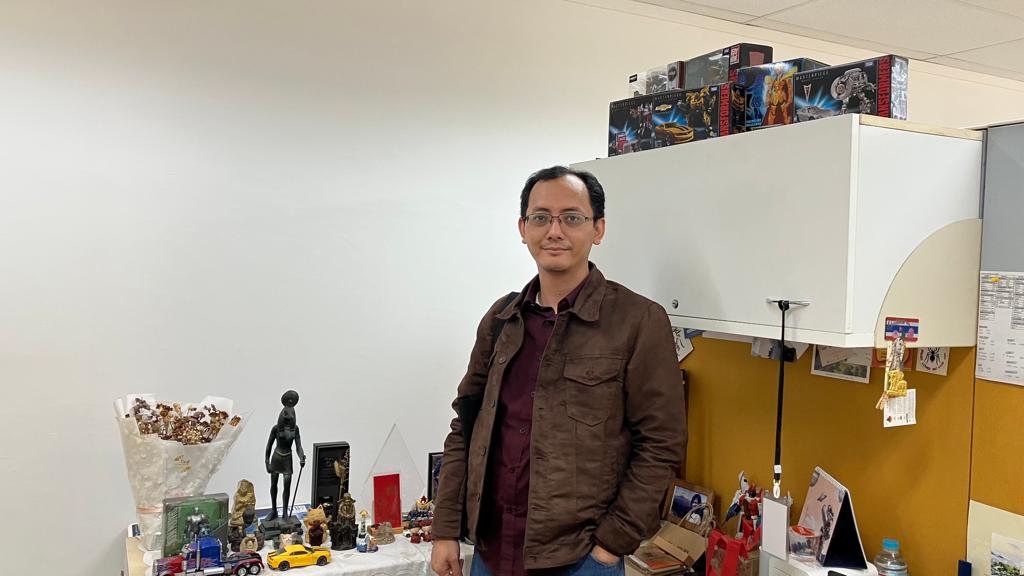 Written by Student Reporter (Aliva Rachma Delia, MBA YP 67)